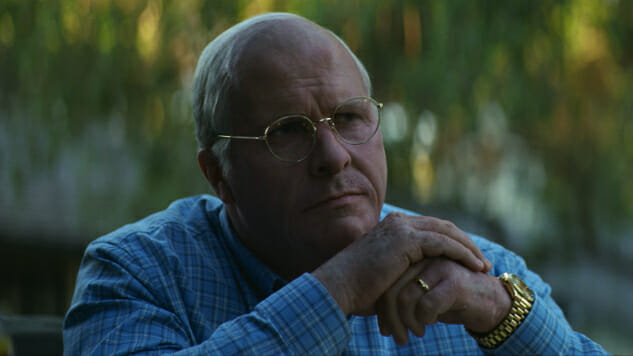 April is upon us, and you'd be a fool not to realize that a new month means new additions to all your favorite streaming services. That, of course, includes Redbox, the movie kiosk and digital VOD service known for its singular mix of blockbusters and bargain bin fodder. Below are all the Redbox additions worth taking note of this month.
As far as critically acclaimed fare is concerned, one of April's most eye-catching additions is Vice, Adam McKay's divisive Dick Cheney biopic built on a transformative performance from Christian Bale. The film split critics on its way to eight Oscar nominations, winning only one, but you can judge it for yourself via Redbox kiosks and VOD as of today, April 2. Other standouts in this vein are Joe Cornish's unjustly overlooked Attack the Block follow-up The Kid Who Would Be King (coming to kiosks and VOD April 16), the swing-for-the-fences finale of M. Night Shyamalan's Eastrail 177 trilogy, Glass (coming to kiosks and VOD April 16), the Transformers franchise broken clock that is acclaimed spinoff Bumblebee (in kiosks today, April 2), underrated horror hit Escape Room (coming to kiosks April 23), 2017 standout and epic Planet of the Apes trilogy capper War For The Planet of the Apes (available on demand as of yesterday, April 1), Clint Eastwood drug-smuggling drama The Mule (in kiosks and on VOD today, April 2) and Karyn Kusama's Nicole Kidman-starring detective thriller Destroyer (coming to kiosks and VOD on April 23).
Now we come to the fun part: The aforementioned bargain bin picks, as opposed to the blockbusters. Redbox has a few of the wrong kind of standouts arriving in April—the kind of titles you expect to find in a vending machine, like cinematic potato chips. The arguable highlight of this category is, of course, The Man Who Killed Hitler and then the Bigfoot, an actually extant action-adventure film starring Sam Elliott as Calvin Barr, a man who killed Hitler and then the Bigfoot. We wouldn't blame you for assuming the title is this film's sole saving grace (although you'd be severely discounting Elliott in that scenario), but the film's critical consensus is surprisingly positive, suggesting that The Man Who Killed Hitler and then the Bigfoot, available in kiosks as of today, April 2, may in fact deserve the benefit of the doubt. We'll extend no such consideration, however, to Redbox's other April lowlights, which, by all accounts, number among 2018's lowest: winner of a pack-leading four Razzies (including Worst Picture) Holmes & Watson (in kiosks on April 9), starring Will Ferrell and John C. Reilly as the eponymous, iconic detective/doctor duo, and Welcome to Marwen (coming to kiosks and VOD on April 9), a rare Robert Zemeckis dud, starring Steve Carrell as an aspiring artist who confronts his real-world trauma by escaping into a miniature, World War II-era fantasy world.
See Redbox's complete April slate below, and be advised that movies in the On Demand section may be available to rent, buy or both, depending on the title—more details here.
What's New & Streaming at Redbox: On Disc and On Demand—April
At The Box
April 2
Bumblebee
The Mule
Vice (2018)
Nancy Drew and The Hidden Staircase
The Man Who Killed Hitler and then the Bigfoot
Jurassic Galaxy
April 9
Holmes & Watson
A Dog's Way Home
Welcome to Marwen
On The Basis of Sex
We Die Young
Matriarch
April 16
Glass
The Kid Who Would Be King
Replicas
Pandas
The Adventures of Jurassic Pet
The Amityville Murders
Pet Graveyard
April 23
Escape Room (2019)
Destroyer
An Affair to Die For
Discarnate
On Demand
April 1
War For The Planet of the Apes
All About the Benjamins
Blow
April 2
The Mule
Vice (2018)
Nancy Drew and The Hidden Staircase
Baldknobber
Baristas
No Alternative
Seven in Heaven
Soul to Keep
April 4
Let Me In
April 5
The Haunting of Sharon Tate
The Head Hunter
April 9
Welcome to Marwen
On The Basis of Sex
We Die Young
Matriarch
Blood Craft
Cannabis Evolution
Destination: Dewsbury
Fathers of Football
Leann Rimes: Her Story
Rose McGowan: Being Brave
Sweethearts of the Prison Rodeo
Bathtubs Over Broadway
Golden Job
April 12
Crypto
April 16
Glass
The Kid Who Would Be King
Replicas
Pandas
DCU Justice League vs. The Fatal Five
The Adventures of Jurassic Pet
Get Big
K2: Beyond the Comfort Zone
New Money
April 19
Daddy Issues
The God Inside My Ear
April 23
Destroyer
April 26
Barbie Dreamtopia: Festival of Fun