New on Showtime: All the Movies and TV Coming in January
Photo courtesy of United Artists/Showtime
Movies
Features
Showtime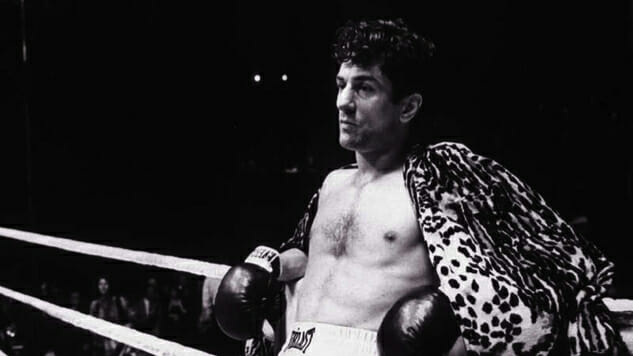 December is shockingly close to being over, and 2018 with it. But not to be overlooked in all the holiday hubbub are the many worthwhile movies and television shows headed to Showtime in January, through which we'll be glad to shepherd you in the breakdown below.
The pay-cable channel's incoming film additions are particularly eye-catching, with a couple of stone-cold classics leading the way. The arguable crown jewel would appear to be Martin Scorsese's 1980 boxing drama Raging Bull, which Paste contributor Christina Newland ranked among the very best boxing movies ever made last spring. Starring Robert De Niro in an Oscar-winning turn, the film dramatizes the life of Jake "The Bronx Bull" LaMotta, whose brutality propelled him to greatness inside the ring, but destroyed his life outside of it. Newland praises Raging Bull, widely considered to be one of the legendary Scorsese's foremost achievements, as "a staggeringly beautiful film on the subject of male violence" and "a stone-cold masterpiece." That's just one of many notable movies debuting on Jan. 1, 2019: Arriving on that same day are low-budget horror institution The Blair Witch Project, 1988 baseball classic Bull Durham, Oscar-winning C.S. Lewis adaptation The Chronicles of Narnia: The Lion, the Witch and the Wardrobe, Russell Crowe-starring boxing drama Cinderella Man, Mike Nichols' star-studded 2004 lust (as opposed to love) story Closer, bonkers Jason Statham-starring actioner Crank, Tony Scott-directed stock car racer Days of Thunder, David Cronenberg's Russian mob thriller Eastern Promises, underrated Mike Judge comedy Extract, Oscar-winning Frida Kahlo biopic Frida, 2004's feature adaptation of Friday Night Lights, classic Thanksgiving comedy Planes, Trains and Automobiles, Paul Thomas Anderson-directed Adam Sandler career highlight Punch-Drunk Love, another beloved football film in Remember the Titans, Guy Ritchie gangster romp Snatch, a trio of Star Trek films (Generations, First Contact and Nemesis), iconic mid-'90s sci-fi blockbuster Stargate, 1993's The Three Musketeers adaptation, Danny Boyle's frenetic drug-addiction drama Trainspotting and James Gray's underrated 2007 crime-thriller We Own the Night, among others. Movies coming later in the month include 2018 heist thriller Den of Thieves (which Paste's Dom Sinacola memorably called "a loud, interminable shart of unmitigated machismo" in his review) (Jan. 4), Aaron Sorkin's directorial debut Molly's Game (Jan. 5), Oscar-winning Billy Bob Thornton/Halle Berry drama Monster's Ball (Jan. 11) and Amy Schumer-starring romantic-comedy I Feel Pretty, to name a few.
As for Showtime's impending non-film additions, the channel has new episodes of four original TV series on the way, as well as a mid-month comedy special. Perhaps most noteworthy is the debut of a new show: 10-episode comedy series Black Monday, named for the disastrous Oct. 19, 1987, stock market crash that would go down as the worst in Wall Street history. Described in Showtime's synopsis as "the story of how a group of outsiders took on the blue-blood, old-boys club of Wall Street and ended up crashing the world's largest financial system," and lent a distinctly Wolf of Wall Street-like vibe by its various trailers, Black Monday stars and is executive produced by Emmy nominee Don Cheadle, also starring Andrew Rannells (Girls), Regina Hall (Support the Girls, Girls Trip) and Paul Scheer (The League). Emmy nominees Seth Rogen and Evan Goldberg executive produce the series and directed its pilot, while series co-creators David Caspe (Happy Endings) and Jordan Cahan (My Best Friend's Girl) serve as executive producers and showrunners. Black Monday premieres on Showtime Sunday, Jan. 20, at 10 p.m. ET/PT—meanwhile, returning that same night are Shameless and SMILF, making their mid-season and season premieres at 9 p.m. ET/PT and 10:30 p.m. ET/PT, respectively. The former show, now in its ninth season, stars Emmy winner William H. Macy and Golden Globe nominee Emmy Rossum (soon to depart the series) as the heads of the hardscrabble Gallagher family, while the latter, beginning its second season, stars creator, executive producer and showrunner Frankie Shaw (in a Golden Globe-nominated performance) as single mother Bridgette Bird, with Emmy winner Rosie O'Donnell as Bridgette's mother Tutu. Last but by no means least in January TV are the final two episodes of season six of Showtime's arguable flagship series: Emmy-winning drama Ray Donovan, starring multiple Emmy and Golden Globe nominee Liev Schreiber as its titular Hollywood (now New York) fixer. The show's penultimate season six episode airs Sunday, Jan. 6, at 9 p.m. ET/PT, with its season finale following on Jan. 13. That just leaves Showtime's lone January comedy special—Howie Mandel Presents Howie Mandel at the Howie Mandel Comedy Club, debuting on Jan. 18—and the channel's streaming collections, curated film sets that include movies adapted from books (the "From Page to Screen Collection"), focused on money (the "Money Makes the World Go Round Collection") and set during war (the "War Stories Collection").
Find Showtime's completely January slate below.
ORIGINAL SERIES:
BLACK MONDAY (Series Premiere: Sunday, January 20 at 10 p.m. ET/PT)
SMILF (Season Premiere: Sunday, January 20 at 10:30 p.m. ET/PT)
SHAMELESS (Midseason Premiere: Sunday, January 20 at 9 p.m. ET/PT)
RAY DONOVAN (Season Finale: Sunday, January 13 at 9 p.m. ET/PT)
NEW MOVIES STREAMING ON SHOWTIME IN JANUARY:
Available 1/1:
THANK YOU FOR YOUR SERVICE
ADVENTURELAND
ASSASSINATION GAMES
THE BACK-UP PLAN
THE BLAIR WITCH PROJECT
BOOK OF SHADOWS: BLAIR WITCH 2
THE BOYS ARE BACK
BULL DURHAM
THE CHRONICLES OF NARNIA: THE LION, THE WITCH AND THE WARDROBE
CINDERELLA MAN
CLOSER
THE COLD LIGHT OF DAY
CRANK
DAYS OF THUNDER
EASTERN PROMISES
EXTRACT
FRIDA
FRIDAY NIGHT LIGHTS
FURRY VENGEANCE
THE GRIFTERS
HE GOT GAME
HERBIE: FULLY LOADED
JOHN GRISHAM'S THE RAINMAKER
A KID IN KING ARTHUR'S COURT
KNOWING
MAID IN MANHATTAN
MAXIMUM RISK
PLANES, TRAINS AND AUTOMOBILES
PUNCH-DRUNK LOVE
RAGING BULL
THE READER
REMEMBER THE TITANS
A SINGLE MAN
SNATCH
STAR TREK GENERATIONS
STAR TREK: FIRST CONTACT
STAR TREK: NEMESIS
STARGATE
THE THREE MUSKETEERS
TRAINSPOTTING
WE OWN THE NIGHT
WHAT'S LOVE GOT TO DO WITH IT
WILD HOGS
YOUTH IN REVOLT
Available 1/4:
DEN OF THIEVES
Available 1/5:
MOLLY'S GAME
Available 1/11:
MONSTER'S BALL
Available 1/12:
I FEEL PRETTY
Available 1/16:
PRIDE & PREJUDICE
WARNING SHOT
DOCUMENTARIES & COMEDY SPECIALS:
Available 1/18:
HOWIE MANDEL PRESENTS HOWIE MANDEL AT THE HOWIE MANDEL COMEDY CLUB
STREAMING COLLECTIONS
From Page to Screen Collection: Molly's Game, The Grifters, Pride & Prejudice, Friday Night Lights and more (Available 1/5 – 2/1)
Money Makes the World Go Round Collection: Den of Thieves, Billionaire Boys Club, Sweet Virginia, Baby Driver and more (Available 1/20 – 2/16)
War Stories Collection: The Reader, The Whistleblower, Denial, Inglourious Basterds and more (Available 1/25 – 2/21)