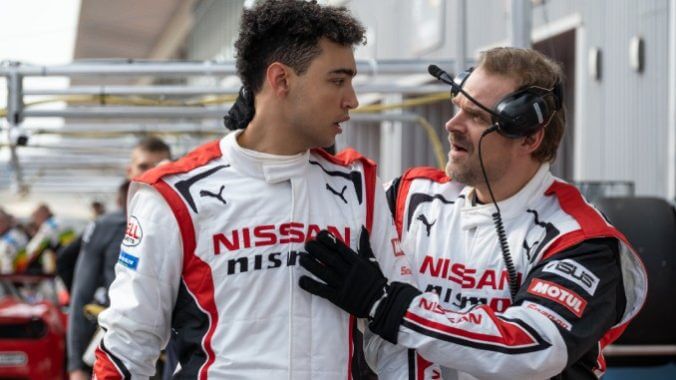 "It is dangerous to unmask images, since they dissimulate the fact that there is nothing behind them." – Jean Baudrillard, "The Precession of Simulacra"
On March 28, 2015 a spectator was killed at the Nürburgring Nordschleife after a Nissan GT-R caught air under its floor in the infamous Flugplatz section, briefly transforming the race car into a sail, careening it over the barriers and through a catch fence. It was a freak accident, but marked a decline in the surprising career of Jann Mardenborough, who hadn't even ever driven a race car until 2011—when he beat out 90,000 entrants to the GT Academy for his skills on the PlayStation-exclusive racing simulator Gran Turismo—and, only two years later, would be on the podium at the 24 Hours of Le Mans, taking 3rd in the LMP2 class. As many critics have pointed out, this is quite dubiously not the sequence of events as portrayed in Neill Blomkamp's Gran Turismo, a Sony advertisement disguised as a biopic of Mardenborough's stunning rise. In Blomkamp's historic reshuffling, a tragic accident becomes a moment for character skepticism before his ultimate triumph.
Revisionism is often a part of films with "based on a true story" in the logline (and now, apparently, the film's subtitle) and Gran Turismo needs that to be front-and-center, because a large portion of the audience—those not already invested in motorsport—might see the premise of going from gamer to racer as completely ridiculous. And it is, but not because sim racers don't become race car drivers. There're plenty of people driving professionally who, like Mardenborough, got their start playing games rather than go-karting. Because it's yesterday's news story, to play it in the present tense is nonsensical. Simulation work has been an essential asset to racing teams for decades, the same way it has for the flight industry. 
Maybe in 2011 it was more controversial, but a decade later and every Formula 1 team is managing an esports version of themselves on their officially licensed videogame, TUMI is running a product line with Lando Norris as the face while proudly referring to him as a "McLaren F1 Driver, Gamer" and reigning World Drivers' Champion Max Verstappen spends much of his off-track time competing in online sim races (and has become as controversial there as in his main sport). Meanwhile Sir Lewis Hamilton, who holds the joint-record of seven championships, hardly sees the use of sims beyond as a tool for car development, and that is because they don't actually teach you how to drive a race car. While F1 drivers might say driving one of those bleeding-edge bits of tech is like playing a videogame, the amount of feeling one's body has in the machine is magnitudes more informative to how a car is driving than any amount of visual fidelity or force feedback a sim rig could ever offer. 
Of course, Gran Turismo isn't a movie for racing drivers, it's for general audiences. The film itself is doing the same marketing ploy that Orlando Bloom's marketing exec character pitches to Nissan. Whereas he seeks to grow car sales by making gamers' dreams come true, Blomkamp seeks to sell PlayStation games by creating a heightened cinematic experience, full of visceral camerawork and crunchy audio. And through its aspatial editing, refusing to ever let a racetrack be understood in continuity, Gran Turismo becomes a cacophonous collage of experience based on real car racing as much as real videogames, but fundamentally opposed to the reality of either. 
Gran Turismo creates a distinct, disorienting sense of immediacy that cannot exist in life itself or in a game, which also forces it to be direct with its assumptions: More people will recognize the guiding line in a GT game before they understand real racecraft, and therefore the driving in the movie must resemble the former before the latter. Maybe that is why Jann (Archie Madekwe) is so excited to get a new steering wheel for his gaming setup at the beginning of the movie—it's what people think a serious sim racer would want, when in reality they'd probably be investing more money into a wheelbase or pedals with better responsiveness. It's best not to think about it; after all, this is a movie meant to be seen in passing on a Sony home entertainment system display at Costco. 
Much like real motor racing, everything is brand forward in Gran Turismo, from the Lamborghinis that the rival rich kid racers drive to the Sony Walkman that Mardenborough gives his mentor Jack Salter (David Harbour) in their most touching moment. But unlike how the foundation of motorsport, an astonishingly expensive venture even at its lowest rungs, is the drive to race—to be the fastest—Gran Turismo's entire justification is the product it is selling. Enzo Ferrari begrudgingly launched a luxury car brand to fund his racing teams; Columbia Pictures and PlayStation Productions have partnered to do it the other way around. They had to trudge through an artistic medium to get their advertisements out.
An early scene sees awkward Jann hanging around some more sociable teenagers. His crush approaches and asks why he likes his game so much. He starts to explain a sensation he gets while accelerating on a straight, where time starts to move differently. It is oddly resonant to something that F.T. Marinetti, the father of Italian futurism, describes while arguing that speed will replace religion: "Multiplied one-hundred fold, human energy will overcome Time and Space." It was also in car racing that futurists and early fascists intersected most neatly, where men transcended fleshy possibility into superhuman myth that competed for national glory. 
Over time, corporations have tried to hijack this nationalist instinct for brand recognition; not strictly speaking of victory for France or Germany but for Renault or Mercedes. Like so many things run by multinational corporations, boards and stockholders, the spirit of the product itself is never the point. The point is to make money. The reality Gran Turismo sells is a fake one, where the gamer fights against professionals who crash into him with so much aggression that even NASCAR would consider revoking their license, and where, when the hero comes back and starts overtaking the field, his adversaries yield the corners like they are AI set to too low a difficulty. The "real" racing is a simulacra. Everything that was once spirited gets sold back with an ersatz imagining meant to spark a potential buyer's memory, reminding them it's time to buy Gran Turismo 7 on the PlayStation 5. It might not even matter if Gran Turismo makes money or not, it's already got people saying the name of the game.
Director: Neill Blomkamp
Writers: Jason Hall, Zach Baylin
Starring: Archie Madekwe, David Harbour, Orlando Bloom, Darren Barnet, Emelia Hartford, Geri Halliwell Horner, Djimon Hounsou
Release Date: August 25, 2023
---
Alex Lei is writer and filmmaker currently based in Baltimore. He can usually be found on Twitter.