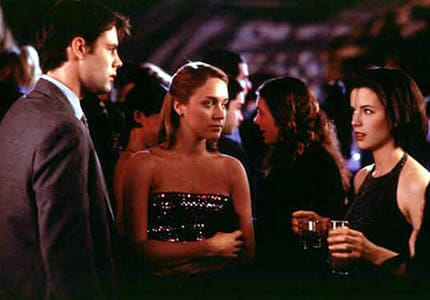 Director/Writer: Whit Stillman
Cinematographer: John Thomas
Starring: Chloë Sevigny, Kate Beckinsale
Studio/Run Time: Castle Rock Entertainment, 113 mins.
Whitewashed disco comedy as tasteful as a polyester suit
Near the end of this woefully ahistorical 1998 comedy about yuppies hooking up at an opulent disco, one guy rants: "Disco was too great, and too much fun to be gone forever! It's got to come back someday. I just hope it will be in our own lifetimes." Out of print for a decade, and recently restored by Criterion, the film follows two shallow roommates, Alice and Charlotte (Sevigny and Beckinsale), as they listlessly shake their groove things with other uptight professionals in the early '80s. In Stillman's envisioning of this seedy decade, New York was already like an episode of Friends: squeaky clean subways and back alleys; whitewashed, unfunny characters; totally bereft of the gay Latinos and African-Americans that made disco the vital and liberating melting pot it actually was. While disco's musical renaissance has thankfully arrived (see LCD Soundsystem, The Gossip), this slight effort deserved to stay gone.