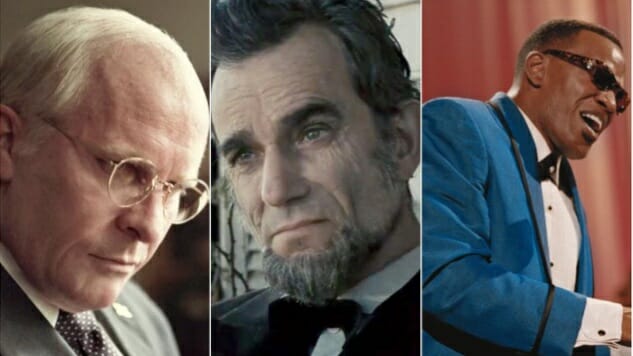 Christian Bale shouldn't have to audition for anyone at this point. He's won an Oscar and proven repeatedly that he can handle any physical demands a director makes of him.
But if artificial intelligence had its way, Bale might not have gotten the job playing former Vice President Dick Cheney in Vice. It's not that he can't handle the accent or the weight gain. The two men just don't look that much alike, according to a facial search engine called PicTriev.
Bale is best known for playing The Dark Knight. So if there is a transitive property to biopic casting, that means that Cheney could play … Batman? The odd choice seems to be working. Bale is drawing Oscar buzz for his portrayal as the former vice president in Vice. Bale is only 44 and movie-star handsome. But he's also known for embracing physical transformations, ranging from a gaunt 121 pounds for his role in The Machinist to about 100 pounds heavier to play Cheney, who was 59-years-old when he took his oath of office.
One of the quandaries of the biopic is how much an actor should resemble the person he or she is playing. No movie magic could make Leonardo DiCaprio look like J. Edgar Hoover or Julie Andrews like Maria von Trapp. So the producers barely even bothered to try.
But while no one would ever mistake Bale for Cheney, that was before the former bleached and plucked his eyebrows, feasted on pies and applied facial prosthetics, to startling effect. Bale's resemblance has been made convincing, though it's questionable whether it's in the league with Daniel Day-Lewis as Abraham Lincoln, Val Kilmer as Jim Morrison and Jamie Foxx as Ray Charles.
If the producers of Vice wanted to save money on makeup, PicTriev suggests the best match for Cheney would have been John Malkovich, Bale's costar in his cinematic debut, 1987's Empire of the Sun.
Biographies like Bohemian Rhapsody (on Freddie Mercury), The Front Runner (Gary Hart) and First Man (Neil Armstrong) have been all over movie screens recently, with more like Vice to come. So we decided to see just how much of a leap filmmakers are making with these recent casting choices, with help from PicTriev's algorithm.
On the Basis of Sex stars Felicity Jones as a young Ruth Bader Ginsburg. Using pictures of Justice Ginsberg from the 1950s, the website nominates Edie Falco for the job. (It also likes her former Sopranos castmate Lola Glaudini.)
The computer prefers Ralph Fiennes over Hugh Jackman as Hart and Jason Biggs as Mercury instead of the well-reviewed Rami Malek. In what would have made for a very different movie, it also suggests Kirsten Dunst as Armstrong instead of Ryan Gosling. (Think Cate Blanchett as Bob Dylan in 2007's I'm Not There.)
Taron Egerton dons high heels, glitter and sunglasses in the upcoming Elton John biopic Rocketman. The AI casting agent's pick for the actor who more resembles Sir Elton? Actor/comedian Bill Hader, who is five inches taller than Sir Elton. (There is no height algorithm.)
Beyond the first impression, the true test of a biopic is how the actor captures the essence of the famous person. While the last Oscar winner in a biopic was Gary Oldman, who like Bale used makeup and mimicry to play Winston Churchill, Jackman chose to approximate Hart's All-American good looks and charm while not going out of his way to look the part.
If box office results are the judge, moviegoers prefer more visual realism. The Frontrunner is one of the biggest bombs in of the year, hauling in just under $2 million in its first four weeks in release. This stands in stark contrast to Jackman's turn as P.T. Barnum in The Greatest Showman, which grossed nearly $200 million in the United States. The difference? Few even know what Barnum looked like though there is no belief that needs suspending. Or perhaps one movie was just more enjoyable than the other? Perhaps an algorithm would help.