Rumor: Sony Reportedly Wants to See Tom Hardy's Venom in Spider-Man: Far From Home
Movies
News
venom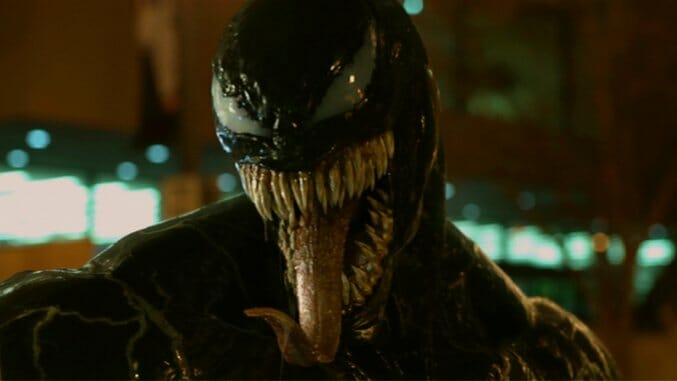 Given the approaching July 2, 2019 release date, the window on adding anything new to Marvel's Spider-Man: Far From Home is presumably just about closed, but that hasn't stopped a new rumor from suddenly making its way into the light. Twitter user Roger Wardell, who has leaked numerous MCU scoops that turned out to be correct, is claiming that Sony "desperately wants Tom Hardy's Venom in this movie."
There are no plans to add Deadpool in an MCU Spider-Man 3, but Sony desperately wants Tom Hardy's Venom in this movie. Deadpool had his own movies but never showed up in the main X-Men films, it will be the same for the MCU.

— Roger Wardell (@RogerWardell) May 27, 2019
That would certainly be an event that would generate some headlines for both companies. Venom is of course at the very top of Spidey's list of arch nemeses, but their cinematic meetings to date, most notably in Sam Raimi's Spider-Man 3, haven't exactly lived up to the hopes and dreams of comic book fans. Neither did Sony's standalone Venom, a film that felt like it had been sent forward through time from an earlier, pre-MCU era of superhero filmmaking. Despite the criticism of both the character and Tom Hardy's portrayal, however, one thing can't be denied: Venom made an absolutely obscene amount of money at the global box office ($855 million!), making sequels a necessity, whether or not they're directly connected to Spider-Man. But you can be certain Sony would prefer them to be.
Of course, the last time we saw Venom, he was preparing to interview Woody Harrelson's Cletus Kasady, who would presumably go on to become the symbiote supervillain Carnage. Could Tom Hardy find himself added to a post-credits scene in Far From Home, showing up to ask for help with that whole Carnage fiasco? It would certainly retcon the classical "Venom hates Spider-Man" backstory that the characters typically share.
Of course, the most limiting factor of such a crossover is whether or not Marvel/Disney would have any interest at all. It's a little hard to imagine that Disney would want its Tom Holland version of Spider-Man to cross over in an R-rated segment of the Venom universe, but then again, they did just promise that Deadpool would retain his "R." Truly, these are strange times, and odder things have happened.
Of course, most comic book fans would probably just prefer a new version of Venom to be introduced within the MCU proper, but we can't always have everything we want.