A week aboard the Cayamo cruise may be the single coolest thing about my job. Seven days in the Caribbean with the likes of Patty Griffin, Steve Earle, John Prine, Buddy Miller, the Indigo Girls and Brandi Carlile is as much fun as you might imagine.
Aside from actually winning at the blackjack tables, SCUBA diving with sea turtles, taking a day trip on a catamaran with some dear friends, and just generally relaxing with my family, here are our 10 favorite moments from Cayamo 2011. Like any good music festival, there were tons of artists I didn't get to see (Richard Thompson! Loudon Wainwright III!), but most waking moments were filled with either music or food. Did I mention the unlimited soft-serve ice cream?
10. Sarah and Christian Dugas Rehearsing in the Library
One of the great things about a musical cruise is that you never know where you're going to encounter an impromptu performance. When my wife and I were wandering around the ship one night, we saw there was a library on board. We snuck in and found not only shelves of books, but a band using the quiet nook to rehearse for an evening show. We settled into some nearby chairs to listen to a woman with a cruise-ship sized voice and work on bluesy rock songs with her bandmates, having no idea who they were. It wasn't until they were leaving that we realized it was Sarah and Christian Dugas, formerly of the Canadian folk band The Duhks. Their five-song EP Another Day will be released shortly.
9. Chuck Cannon's Songwriting
Watching Chuck Cannon for the first time, I decided he was as gifted a scribe as many of the folks on our list of the 100 Best Living Songwriters and funnier than most. "Every sinner's got a future / And every saint's got a past," he sings in "Whiskey Drinkin' Preacher" before breaking into Shawn Mullins' hit "Light You Up," which he co-wrote.
8. Sarah and Christian Dugas Singing a Tribute to Chuck Cannon on an Elevator
When the doors of the elevator opened on 6, the Dugas siblings and their bandmates were snapping their fingers and singing "Chuck Cannon, Chuck, Chuck Cannon…" to the bemused troubadour. It was another beautiful example of music happening everywhere. Even the regular "elevator music" was programmed by Sixthman so that instead of Buffett and the Beach Boys, you'd hear folks like Damien Rice, Lissie and Josh Ritter in the hallways or by the pool.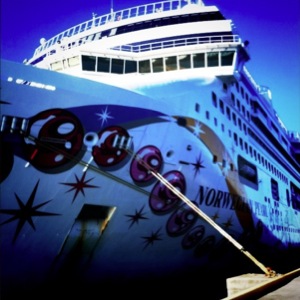 7. Colin Hay on the Pool Deck
The former frontman of the Grammy's Best New Artist Men At Work (it's been 30 years!) gave the pool-deck crowd on the final afternoon just what they wanted: a three-song mini set containing his monster hits—"Who Can It Be Now?", "Down Under" and "Overkill." During a quieter indoor set earlier in the week, it wasn't clear if many in the crowd knew who this "Colin Hay" was until he played "Who Can It Be Now?." Hay's wife, who joined him for his performances, was also…memorable. Her combination of distracting flamenco dancing with spot-on vocal accompaniments caused a stir in the crowd every time they performed.—Nick Purdy
6. Sean Watkins, Luke Bulla and Others Jamming in the Bar
It's always worthwhile to stay up late on Cayamo since the music doesn't stop when the official shows are over. In years past, Brandi Carlile has sat down at the lobby piano and entertained handfuls of night owls, and countless musicians have joined impromptu jam sessions in the ships' bars. In the midst of those, you'll usually find former Nickel Creeker Sean Watkins and some of his WPA bandmates pickin' and a' grinnin'. This year, I stumbled across Watkins mixing it with other musicians, some of whom were just fans who'd brought an instrument on board. I know it was a highlight for the non-professionals to be jamming with all-stars, but it was also fun for those of us just enjoying the tunes.
5. Steve Earle With a Band
Last year Earle performed on Cayamo without a band. This year, he surrounded himself with great players and the difference was striking. It was as good a Steve Earle show as I've seen. I'd wondered how he'd adjust to something like Cayamo where the wall between performer and fan is almost non-existent, but there he was in the gym every morning, going to life-boat drills and carrying his adorable new baby around the hallways. It seems like he and his lovely wife Allison Moorer adjusted just fine.
4. John Prine Being John Prine
One of my only complaints about Cayamo has been the sameness year-to-year, but I understand that'd it'd be difficult not to invite folks like Lyle Lovett, John Hiatt, Patty Griffin and Brandi Carlile over and over. This year's only new headliner was Prine, and it was the first time I'd seen him. The gruff and witty performer didn't disappoint. His duet with Carlile on "Angel From Montgomery" was definitely one of the week's best moments.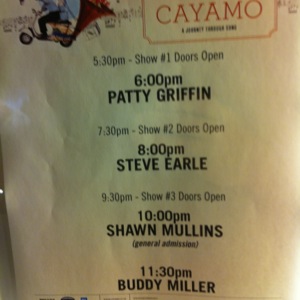 3. Buddy Miller Rocking the Boat
Cayamo organizer Andy Levine of Sixthman hopped onstage before both Saturday night's back-to-back mainstage bonus shows featuring Shawn Mullins and Buddy Miller and called them both "the essence of Cayamo." Buddy Miller, for his part, gave two brilliant performances on the ship (he only joined midweek, embarking in St. Croix, along with Patty Griffin). Fresh off a run with Robert Plant's Band of Joy (which will also dominate the remainder of his year), Miller said the two Cayamo performances comprised both legs of his 2011 world tour—the only two actual "Buddy Miller" shows he'll be playing this year, so we felt a little extra fortunate. His first set never settled into ballad territory, Miller choosing instead to blast through and hour's worth of rockers, made even better by Patty Griffin's vocals on at least half the songs. And yep, that's what we love about Cayamo, those combos that don't occur all that often on land. In their second set, Griffin threw the whole thing off by reminding Miller that it was the two-year anniversary of the heart attack that kept him from performing as planned on Cayamo 2009. Griffin teared up and Miller nearly ended the set early—it was clear the memory was affecting him (he went to the hospital rather than simply lie down during that episode only at the strong behest of Griffin, Shawn Colvin and Emmylou Harris, who he was touring with at the time).—Nick Purdy
2. Songwriters in the Round
You realize how spoiled you are on the boat when the songwriters in the round features Patty Griffin, Buddy Miller, Scott Miller, Allison Moorer and Dar Williams. With each performer getting just three songs each, it was Scott Miller who surprisingly made the biggest impact on me and others in the crowd. Of course, having Patty accompany most of her peers was a huge treat, as well.
1. Brandi Carlile with the Indigo Girls
The surprise of the hotly anticipated, cruise-closing Brandi Carlile-Indigo Girls combined set was that the star of the show arguably was not the Queen of the Boat (Carlile) but Amy Ray, the Indigos' gruffer voice. Ray's "Go" from 1999's Come On Now Social was the clear highlight—a full-throated rock performance that drew the biggest reaction, fully utilizing the power of "the twins" Tim and Phil Hanseroth, the guitar/bass/BGV pair who make every Brandi Carlile show memorable. We were also impressed with the accordion, piano and vocals of super-sidewoman Julie Wolf, who even took a verse on "Closer to Fine" at least twice during the cruise.—Nick Purdy