On Freak Accident, Al Menne Chooses Quiet Magnetism and Disarming Grace
The Great Grandpa vocalist's debut album sports a badge of well-earned bravery
Music
Reviews
Al Menne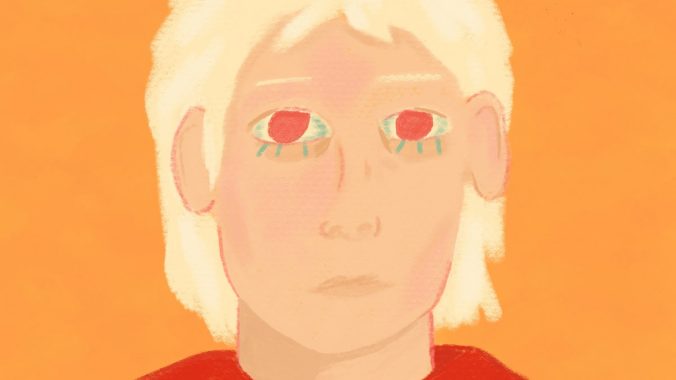 In 2019, the Seattle indie rock band Great Grandpa put out Four Of Arrows, one of the best albums of the year—and a project that has only grown in reputation since its release. As we all know, there have been several hairpin turns in the collective's narrative since that moment—changes which, in part, have led to this, the first solo effort from lead singer Al Menne. Though Menne's voice has always been of the defining characteristics of Great Grandpaf, with its expansive range, ragged edge, and pure potency, this is the first time Menne has taken on primary songwriting duties. The result is an album of both influence and ingenuity, one that sees Menne try on a few hats as he comes into his own as a songwriter and storyteller but draws you in throughout and, during the record's best moments, absolutely blows you away.
It may be easy—and a bit obvious—but I can't really start anywhere but the beginning when delving into Freak Accident. "Kill Me Now," the first album's first single and opening track, is the kind of song that's difficult to write about without sounding effusive to the point of fanaticism. For a burgeoning songwriter like Menne to write such an affecting, tightly-wound, and captivating song is a feat difficult to overstate.
That isn't to say this is coming completely out of nowhere; it's true Menne was not the primary songwriter force behind Great Grandpa, but their lyricism and incredible sense of melody are all over Four Of Arrows. In particular, "Bloom" remains one of the best songs the band ever wrote—and Menne's way with words is a primary reason why. "I get anxious on the weekend when it feels like I'm wasting time, then I think about Tom Petty who wrote his best songs when he was 39," is a lyric I think about a lot when stuck in a spiral of self-loathing and misplaced anxiety. "Kill Me" is a similarly astute look at the throes of helpless attraction, taking the question "Do you remember sayin' it scared you to death to know how much I love you?" and thinly spreading it over months of pain and confusion.
Menne may be working without his old band on Freak Accident, but they are joined here by a murderer's row of indie rock collaborators helping to bring his vision to life. Melina Deterte (Jay Som), Meg Duffy (Hand Habits), Nico Levine (Jodi), Whitmer Thomas and singer-songwriter Christian Lee Hutson are all on hand, with the latter serving as producer. This can be heard, in good ways and bad, throughout Freak Accident. Where the album falters most is when Menne recedes ever so slightly in favor of the kind of ghostly, understated production that has come to define both Hutson (and his more omnipresent collaborator Phoebe Bridgers).
Songs like "What U Want" and "Beth" are pure Bridgerscore in presentation; conversational, vulnerable and whispered like a secret. It's pristine craftsmanship and appealing at face-value, but it sands away some of the rough edges that are inherent in Menne's best feats of songwriting. Songs like "Saddle" and "Freak Accident," both which put their vocals higher in the mix, allow us to get a clearer sense of their range as a vocalist and how much they can convey through feeling alone. You can understand Menne's instinct to surround themselves with such talented collaborators, but it also creates a superfluous number of voices in the room—something that you can hear from time to time on Freak Accident.
What no amount of production can hide is Menne's way around a melody, or their ability to so easily draw you into their world. There's a quiet magnetism at play with Menne, an instinct of the listener to lean in; an impulse to unpack each cryptic line. They sing a lot about the desire to be understood and accepted on Freak Accident (that name itself arriving as a play on the isolation they felt growing up as a trans person), and does so with such a disarming grace that invokes an incredible amount of pathos. "And I wonder if she knows those little parts of me?" Menne asks on "Beth," during a scene that's almost unbearably intimate. "There's joy in the pain of bein' alone, when nobody knows you the way that you need them to," goes "Kill Me."
And yet, as we learn on Freak Accident's final track, all these questions—these pinpricks of doubt—are leading to a moment that lands with a thud on the other end of the scale. "Careful Heart" is a pure love song, with none of the caveats that pockmark earlier attempts at full-throated desire. "Do you want to build a little life with me?" Menne asks. This time, he's not hedging his bet, no longer afraid of what devastation might come with a wrong answer—and the album shines as a result of this well-earned bravery.