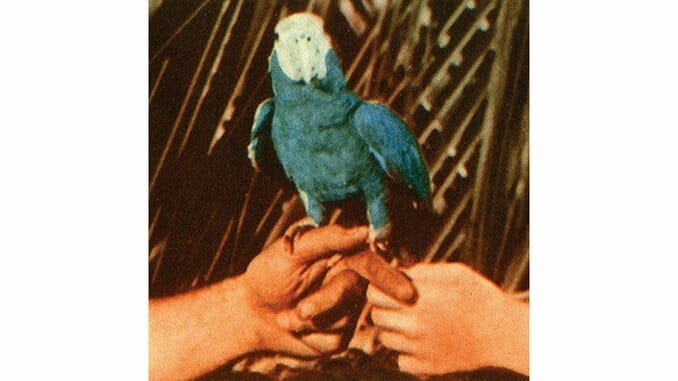 Andrew Bird has fashioned songs out of formaldehyde and "Darkmatter," "Plasticities" and "Anonanimal"s. But he's rarely expressed himself with plainspoken vulnerability. Are You Serious, his 13th LP, isn't a course-corrected confessional—he's too fond of artful abstraction to write, as he recently told Paste, an "Andrew Bird Grows Up" album. But the singer-songwriter/violinist/whistling aficionado has subtly dropped his guard, using simpler language to explore complex themes.
The centerpiece is slow-burning "Valleys of the Young," which finds Bird—the father of a now-four-year-old son—ruminating on the life-altering brutality of parenthood. "Your friends will become strange to you / Just as you will become strange to them," he sings over dust-blown electric banjo and mile-wide whistles, touching on the "great divide" that children inadvertently create. But he shifts perspectives in the final verse, staring deep into the unflinching tragedy of a parent's love:
Now you're going on 64, driving down 65 / To the hospital to see if your adult son will survive or not / After taking those pills in the parking lot / You know the one behind the Marriott / This is a dream you won't be waking / Still our hearts are constantly breaking / From their cradle to our grave / Is it selfish, is it brave?
Instead of burying the heartbreak in metaphors, Bird bravely bares his wounds. On the surging "Roma Fade," he inverts an obvious love song cliché, writing about the creepiness of gazing at your significant other for the first time. "And know someone's watching you," he sings, the violins receding. "Watching me, watching you and all that we look upon / You may not know me but you feel my stare." Like The Police's "Every Breath You Take," it blurs the line between seduction and stalking—but that cleverness is never strained. We understand that Bird is manipulating us, and we laugh at the awkwardness of the concept because most of us have experienced it first-hand.
Are You Serious offers no major musical tweaks. But his primary cast of collaborators—producer Tony Berg, guitarist Blake Mills, bassist Alan Hampton, and drummer Ted Poor— emphasizes groove and atmosphere, targeting the hips as much as the head. Opener "Capsized," a hypnotic funk-spiritual, nods to Bill Withers' "Ain't No Sunshine"; "Truth Lies Low" nails a sweet spot between blue-eyed soul and stoned country. The biggest sonic revelation is "Puma," written as a dedication to his wife's courage in the face of illness. Bird marries his high-brow trademarks (pizzicato violin plucks, elegant chord shifts) with vintage rock touches (chorus tambourines, heavy kick drums)—the closest he's ever come to pure pop.
Because it so directly explores matters of the heart, Are You Serious will likely end up as the "Andrew Bird Grows Up" album, even if it annoys him. But there's beauty in the honesty of that evolution. "If she sees you it changes you, rearranges your molecules," Bird sings on "Roma Fade." Same molecules, just rearranged.