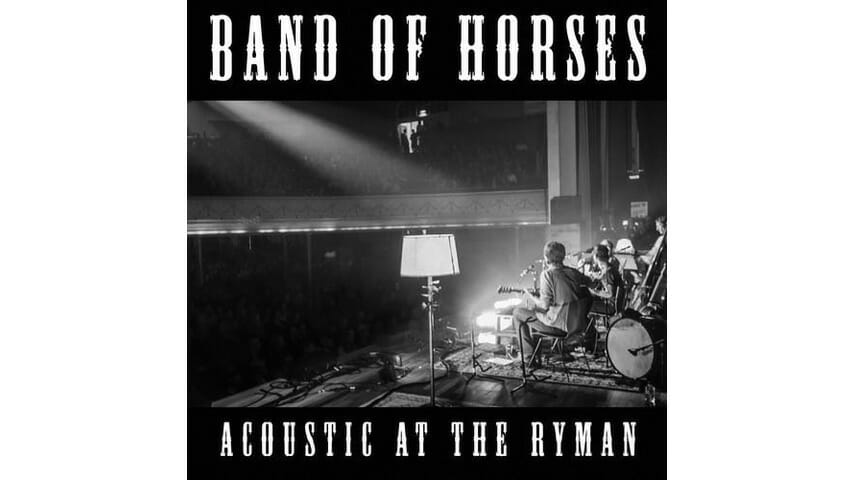 There are two kinds of live albums—the ones that aim to capture and preserve precise moments in music history and the ones that serve as social experiments for bands to reinterpret their works in patchwork collections of reinvention. Band of Horses' Acoustic at the Ryman—the band's newest album since 2012's Mirage Rock—falls into the latter category.
Recorded at Nashville's beloved and historic Ryman Auditorium (where the Grand Ole Opry used to call home) during two nights last April, Band of Horses' live acoustic LP highlights the group's country influences. Although formed in Seattle, the band now works out of Charleston, S.C., and those Southern musical mannerisms—from aching harmonies to drawling "thanks, y'all"s—are accentuated in the loving embrace of the Ryman.
Although the 10 songs on Acoustic at the Ryman don't flow particularly linearly, the sonic quality of the record is impeccable. The band chose to master the album in the high-resolution Direct-Stream Digital format, one that's used predominately by classical and jazz artists. As such, every crackle of Bill Reynold's upright bass or crack in frontman Ben Bridwell's voice makes the cut. And the thing is, Band of Horses plays almost flawlessly throughout Acoustic at the Ryman.
The band's warm vocals are a particular highlight of this acoustic album. The harmonies in these renditions of "Factory" and "Older," and especially in the a capella sections of "Neighbor," bring out the real blend of voices sometimes hidden within studio layers. Acoustic at the Ryman also includes different arrangements for "No One's Gonna Love You" and "Wicked Gil" that shift keys and tempos in ways that elicit new interpretations for these older songs. Because even if Acoustic at the Ryman doesn't flow like one natural performance, the cumulative effect of the record presents Band of Horses as a talented group of musicians who are wholly capable of playing live without sonic camouflage or superfluousness.