Bon Iver Live Debuts New Album 22, A Million, Shares Two Extended Cuts of New Songs
Images via Cameron Wittig & Crystal Quinn, Jagjaguwar
Music
News
Bon Iver
In case you weren't in Eau Claire, Wis. over the weekend, a little singer/songwriter project known as Bon Iver have not only announced a new album, but played it in full during their own festival. No big deal.
The new record 22, A Million is out Sept. 30 via Jagjaguwar Records. Trever Hagen, a close friend of Bon Iver figurehead Justin Vernon, penned a lengthy but emotional essay about the project's influence as well as cryptic details about the new album as a bio for his friend's website.
An excerpt reveals the meaning behind the album title:
22 stands for Justin. The number's recurrence in his life has become a meaningful pattern through encounter and recognition. A mile marker, a jersey number, a bill total. The reflection of '2' is his identity bound up in duality: the relationship he has with himself and the relationship he has with the rest of the world. A Million is the rest of that world: the millions of people who we will never know, the infinite and endless, everything outside one's self that makes you who you are. This other side of Justin's duality is the thing that completes him and what he searches for. 22, A Million is thus part love letter, part final resting place of two decades of searching for self-understanding like a religion
Below is fan-shot video of the full album performance along with lyric videos of two new songs, "10 d E A T h b R E a s T ? ?" and "22 (OVER S??N)." Both of these videos offer "extended cuts" of each song, so there's no telling how accurate they will be to the final album versions. The two songs are also currently available for purchase as digital and physical singles.
The 22, A Million album cover and tracklist are below, as well. Eager fans can pre-order the album here, but, as Stereogum points out, maybe wait for new tattoos, okay?
Bon Iver's few forthcoming touring dates are also below. If interested, grab tickets quick, as the majority of dates are already sold out.
Bon Iver Eaux Claire Festival Performance
22 (OVER S??N) [Bob Moose Extended Cab Version]
10 d E A T h b R E a s T ? ? (Extended Version)
22, A Million Cover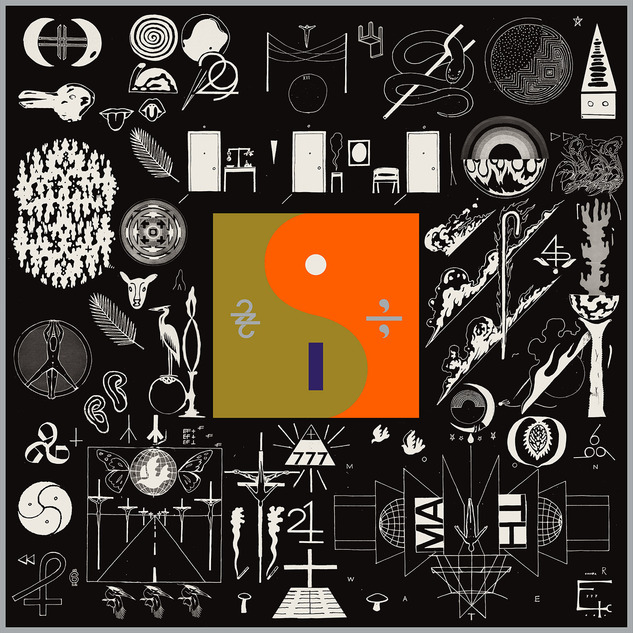 22, A Million Tracklist:
1. 22 (OVER S??N)
2. 10 d E A T h b R E a s T ? ?
3. 715 – CR??KS"
4. 33 'GOD'
5. 29 #Strafford APTS
6. 666 ?
7. 21 M??N WATER
8. 8 (circle)
9. ____45_____
10. 00000 Million
Bon Iver Tour Dates
Oct.
1 – Berlin, Germany @ Funkhaus Berlin, DE
18-20 – Oakland, Calif. @ Fox Theater $
22 – Orange County, Calif. @ Beach Goth Festival
23 – Los Angeles, Calif. @ The Hollywood Bowl ^
26 – San Diego, Calif. @ Copley Symphony Hall *
($ = with Francis & The Lights)
(^ = with Patti Smith and Hiss Golden Messenger)
(* = with Julianna Barwick)