Brittany Howard Becomes Herself on Jaime
We talk to the Alabama Shakes frontwoman about the South, the self, spirituality and how they all feed into her stupendous solo debut
Photo by Danny Clinch
Music
Features
Brittany Howard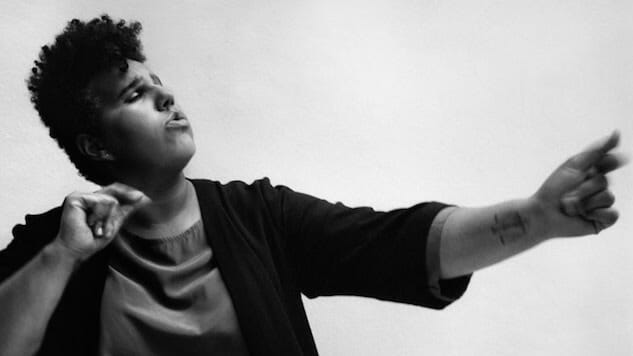 Brittany Howard was driving across some slab of American plains circa summer 2018 when she realized a solo album was in her future. She was on a "just-for-fun" road trip, her first outside of touring, with her partner (now wife) Jesse Lafser, but the dialogue regarding her next career move was entirely internal.
"There's times where you're just driving across Texas, Oklahoma, somewhere flat, and ain't nobody really talking, it's just silent in the car," Howard says. "And I was just thinking, 'I'm turning 30. I want to do something that I've always wanted to do, and I've always wanted to make my own record.' I was like, 'Well, what do I want to do? [Do I] want to be touring, playing these songs 'til I'm 50, or do I really wanna switch up the game and do something risky and challenging?' And that's really all there was to it—just a little conversation between me and myself."
That chat was the first step towards making Jaime, the Alabama Shakes frontwoman's impeccable debut solo effort, out now. The genre-busting record arrives four years after the rock band's second LP Sound & Color won them their third of four Grammys. The Shakes shook up the scene in 2012 with their debut Boys & Girls, finding fans in their native South and far beyond, among classic rock aficionados and eager hipsters alike. They are easily one of this decade's greatest rock success stories. But Howard had no doubt in her mind it was time to step out on her own. I ask her if leaving was scary. Her answer was the literal opposite.
"It's really liberating because I can just do whatever I want," she tells Paste. "I mean, what a great feeling?"
The album is named for Howard's sister, Jaime, who passed away as a result of a rare form of eye cancer when she and Brittany were 13 and 8, respectively. Like any good older sibling, she impressed upon Brittany all the coolest stuff, including music and how to play it.
"My sister, me and her were so cool," Howard says. "She was like my teacher. So she'd be like, 'This is how you draw and this is good music. This is the kind of music we like. This is how you play piano. This is how you play guitar, this is how you write a song, this is how you write lyrics.' We didn't play videogames all day—we went out and used our imagination, played outside. So it was the golden era of being a kid. And that's why making my first record, I wanted to put her name on it because I feel like it's just as much mine as it is hers. It makes me feel great to see our names together on there."
But Jaime isn't necessarily about its namesake. This album is about Brittany: her upbringing in smalltown Athens, Ala., her love story and her interpretation of America. Howard wanted this album to be hers and hers alone, so much so that while driving out west with Lafser, the pair avoided any road trip tunes Howard feared might be too impressionable.
"I remember telling my partner, 'We can listen to your music, but I ain't listening to nothing because I don't want to make a 'this' record or 'that' record, being heavily influenced where it's not coming from my heart." Howard says. "So I was listening to Bob Dylan and Joni Mitchell, Leonard Cohen, and these people that she liked."
There's a lot of talk these days about the move towards genre-less music, but Jaime is in a whole other ballpark. If Boys & Girls and Sound & Color were this decade's answer to southern rock, Brittany Howard, the artist, is 2019's answer to an increasingly fragmented musical landscape. Jaime sounds like nothing else. It's blues, it's soul, it's rock 'n' roll, it's country, it's hip-hop. In one instance ("Run To Me"), it's pitch-black synthwave with a splash of Prince's sensuality. In another ("13th Century Metal"), it's like the spoken-word sermons of Kate Tempest married to loose jazz drums and noise rock. "Goat Head," which recounts the racism Howard's parents, a white mother and black father, faced in Alabama when she was an infant (specifically the time when someone placed a goat head in her dad's car), is groovy and foreboding. "Presence" features harp and makes a case for living in the moment. Jaime owes as much to Solange as the Allman Brothers, to Simple Minds as Nina Simone, and yet, it owes nothing to anyone at all. Howard never ceases to surprise throughout the album's engrossing 35 minutes.
Howard recruited producer/engineer/mixer Shawn Everett, with whom she had worked on Sound & Color, and they got to work. She wrote these songs at home with just her laptop, keyboard and guitar.
"I'll just start writing things, pressing keys, hitting chords, walking around the house, just waiting for something to strike," she says. "And then I'll get an idea and run back to my computer and I'll start putting it down. That's usually what it looks like no matter what. Usually I like to work alone, and that's how I did this record too."
As for the Shakes, Howard doesn't have any firm plans to rendezvous with her band in an official fashion. To borrow a lyric from Boys & Girls, she's just gonna hang loose, maybe "flow with the tide."
"Not at this time," she says when I ask about plans for more Alabama Shakes music. "I mean, right now, I'm kinda into this new phase, and I'm just gonna see what happens."
Jaime isn't Howard's only project sans Shakes. She's also one-third of the rock trio Bermuda Triangle, who released three stellar singles a few years ago, and in 2015, she released an album with her other band Thunderbitch. In other words, Howard hasn't stopped making music since she started. That's because, in her case, a lack of creativity is stifling.
"I have to create no matter what," she says. "Taking a break from creating is not a break. That just feels weird. So that's why I'm always in all these other bands, always trying to do something, because it makes me feel good. I love working in the terms of being creative, but there's a fine line between working too hard, and just being creative and doing your life's work. So when that line starts getting a little loaded, that's when I'm like, 'Okay, it's time for me to step back from whatever this project is and find out what's bringing life into me and what's making me feel energized and not drained.'"
And that's exactly what she did here. Howard traded the mundane for new material, new landscapes and, eventually, her Nashville home for one she discovered on that cross-country voyage in New Mexico (per her interview with the L.A. Times). She also entered a new decade, which gave her a chance to reevaluate everything in her life—including her career.
"I actually feel real different," she says. "I don't know if just turning 30 made me so different, or if my brain finally stopped growing, or whatever it is scientifically, but it was just different. It's just a different year. I was really just taking things back into my power, under my control, regaining that power and that sensitivity and that creativity and just having time to stop and think and be like, 'Okay, we need to regroup. Where am I in my life? What do I want? What's the matter? What do I need to say?' That just occurred when I turned 30. Maybe it was a coincidence."
Coincidence or not, the realizations she uncovered about herself on the road, while making this album and while digging deep in her past were vital to understanding her own story.
"It's taught me how to be a person [with] a survivor mentality," Howard says. "No matter what happens, I'm not affected. I'm gonna keep moving to the next place. I'm gonna keep going forward. I'm not going to look backwards. Doing this record, it taught me it's really good to go back and revisit what made you what you are, which I think is not something a lot of people where I'm from have the opportunity to do because everybody is working all the time, to pay light bills, to buy groceries, put food on your kid's table. And so I had the opportunity to look at my life and how it formed me, how it created me both positively and negatively. So making this record, I was just like, 'Oh, that makes a lot of sense why I'm like this or why am I better able to do this.'"
During that road trip, they certainly had to keep moving—both figuratively and literally. They saw America, in all its ugly truth. Hate, racism, bigotry—these things aren't confined to a region, or a decade. Someone chucked fireworks at the pair as they walked down the street. But they also saw a lot of beauty and love. They were welcomed into strangers' homes. They were greeted with open arms.
"Growing up in the South, I always thought in America the South was the worst place, because that's where all the bigotry really is and that's where all the racism is," Howard says. "And even though that wasn't really my experience, that's just what we're told in this society. I did find out that it doesn't matter where you are, there's going to be somebody that don't like you. They hate you just because you're walking around on the earth. But then also, in these little small towns, there'd be people who are still very open-minded. They're really progressive and still like, 'Well come on in here, sit down, have wine, where are you from? Tell me about you. Oh y'all together? Oh that's so cool!' And then there's also on the other side of that, walking down the sidewalk and somebody just throwing fireworks at us 'cause they didn't like us. It was very eye-opening to see. The world is a wild place."
The songs on Jaime are both of the world and intensely personal. Howard grapples with spirituality and her Christian upbringing on "He Loves Me," a seductive piece of neo-soul that spins sin on its head. Maybe there is a higher power, Howard posits, but maybe he's not a God we should fear. "I know he still loves me when I'm smoking blunts," she sings. "Loves me when I'm drinking too much / He loves me when I do what I want / He loves me, he doesn't judge me."
"My grandmas, they both raised me up in church, and I was scared of God," she says. "I was scared of upsetting God. It was very stifling. It didn't feel right. It felt more like I was just controlled and I had to follow all the rules. And once my sister passed away, we stopped going to church. I was just like, 'What kind of God would make my sister sick like that?' And we stopped going 'cause my parents were grieving, and it gave me the opportunity to think for myself without fear of damnation. I got to form my own relationship with my creator instead of being told how to do it and being told, 'He's gonna stop loving you if you do this and do that."
"Stay High" and "Georgia" are love songs. On Shakes albums, the lovers in the stories were often "boys" and "girls," but "Georgia" is explicitly about Howard's childhood crush on another girl. It sounds like a deep exhale.
"Something about that song just makes me teary to this day, because it's just a story of holding things in," she says. "But they're good things like love, most beautiful thing we got, but holding it in, not letting it be released, saying, 'No, somebody told me it's bad to love somebody this way. I can't possibly do that.' But it's so innocent, so pure and so beautiful. And 'Georgia' is the time for that love to just shine, and just come out and be noticed and be seen and be appreciated. So every time I'm performing that song, man, it just has a really special place in my heart."
Love, race and the South all play a big role in Jaime, but the album's principal theme could be compassion. In "13th Century Metal," Howard promises to "think before I speak" and "spread the enlightenment of love, compassion and humanity," before repeating "We are all brothers and sisters." In the mission statement she posted on Instagram ahead of Jaime's release, she vows to "learn to love my own self as if it were an act of resistance." I asked her what she meant by that.
"Everything around us is telling us to hate yourself," she responds. 'You don't look like this. You must not be no good. You don't do this five times a week. You must not be no good. You don't own this car. Must not be no good. You ain't got the new phone, you ain't got the new cameras, you ain't got the new computer.' It's always challenging us to look at ourselves as like, 'I'm not good enough, but once I get this, and once I do that, I'm going to be great.' There's always the pressure, 'I'm about to do great' instead of just looking at yourself and going, 'I got 10 fingers, I got 10 toes, I can breathe without help, I'm walking around and making my own decisions. You're good. You're perfect. Just don't forget it.' I think it's an act of resistance, especially in this society, to look at yourself like that. 'Hey, I'm good right now. Doing great actually.'"
Jaime is out now on ATO Records. Watch Alabama Shakes perform in the Paste office in 2010: