EXCLUSIVE: Listen to "Alone in Brooklyn (Susan's Song) from Brooklyn 45
Ted Geoghegan's new horror flick exclusively premieres on Shudder on June 9.
Photo courtesy of the artist
Movies
News
Brooklyn 45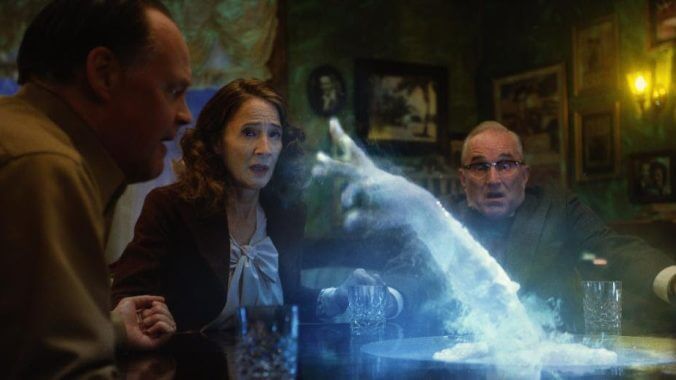 This Friday, filmmaker Ted Geoghegan will be unveiling latest film, Brooklyn 45. Set in 1945, Brooklyn 45 is a horror journey that conjures paranormal thrills and up-close terror by reinventing traditional genre architecture. Inspired by the timeless work of Ella Fitzgerald, Geoghegan tapped Scottish musician Jo Hill to compose "Alone in Brooklyn (Susan's Song)"—a modern take on jazz-standard energy—for the film.
The song is born, partially, from a decade-long friendship between Geoghegan and Hill, and her composition is a perfect companion to the period piece that took SXSW by storm just a few months ago. Brooklyn 45 exclusively debuts on June 9 via Shudder.
Geoghegan says of "Alone in Brooklyn (Susan's Song): "This film is so personal and special, and being able to end it with a beautiful piece of original music is, quite honestly, magical. Jo is a dear friend, and having her incredible work included in Brooklyn 45 only brings the whole project closer to my heart. It's an honor to have collaborated with her."
Hill adds: "When I got the call from Ted asking if I wanted to collaborate with him, it was an instant yes. It's always been a dream of mine to make original music for film, so it was so exciting getting to marry my passion for both music and the horror genre through such a special project. It's been a beautiful experience all around and I can't wait for everyone to watch it."
Listen to the premiere of "Alone in Brooklyn (Susan's Song)" below.