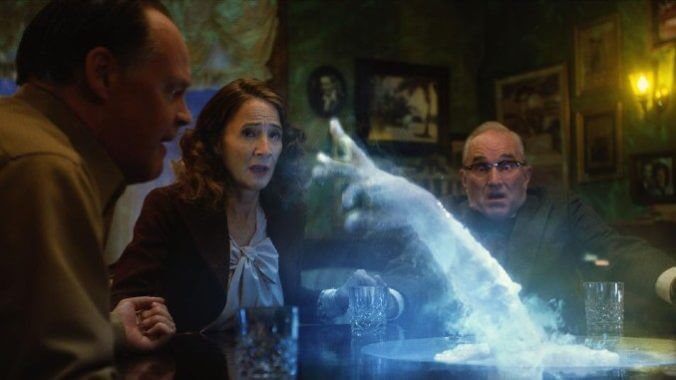 If you want proof of the endless creativity present in the horror genre, look no further than the single-location scary movie. For decades, our finest horror filmmakers have zeroed on a haunted mansion, a lonely cabin, or even a single room to tell stories that strip bare the characters contained within them, and reveal something haunting not just about the people on screen, but the people watching on the other side. At their best, these films are feats of tremendous logistical, budgetary and narrative imagination, sometimes even more than their scaled-up horror contemporaries.
It's not surprising that Ted Geoghegan knows exactly how to deliver on this kind of film, at least not if you're familiar with his previous supernatural horror film, the remarkable We Are Still Here. That film, while not a single-location story, made excellent use of intimate surroundings and a small cast to tell a moving, frightening story of grief, regret and the ever-present past. Brooklyn 45 allows Geoghegan to return to familiar themes and a stripped-down narrative scaffolding, while delivering something very different from his past horror success. A period piece that's part locked-room mystery, part ghost story and all showcase for a glorious ensemble of character actors, it's another triumph of single-location horror storytelling—and proof that Geoghegan has only just begun to show us what he can do.
As the title suggests, the film opens in Brooklyn on a December night in 1945. World War II is over, but the wounds of that great struggle are still very fresh, particularly in the hearts and minds of the five people who've just gathered in a beautiful brownstone for a bittersweet reunion. Longtime friends Marla (Anne Ramsay), Hock (Larry Fessenden), Archie (Jeremy Holm), Paul (Ezra Buzzington), and Marla's husband Bob (Ron E. Rains) all carry scars of the war as they enter Hock's elegant parlor, but what they don't yet know is how deep those cuts really run. 
Through a solidly laid few minutes of table-setting and reminiscing, we learn that Hock is still mourning the loss of his wife, who committed suicide a month earlier amid paranoia about Nazi spies living next door. It's the freshest piece of trauma, but it's not the only one: Marla is still adjusting to a quiet life of government service after years as a Nazi interrogator, Archie is facing war crime charges for something he may or may not have done, and Paul is still so devoted to his own military bluster that all the whiskey in the world can't calm him down. It's in the midst of these very personal shadows—shadows cast by four years of fighting across two different oceans—that Hock explains why he's summoned them all for this reunion. Once a towering military leader and the glue of their friend group, Hock has been reduced to a grief-riddled mess, diving into texts on communicating with the dead as a way to cope with the loss of his wife. With these ideas in his head, and his ride-or-die inner circle gathered around him, he proposes a simple ritual to try and gain some peace: Lock the parlor doors, hold a séance and try to contact his wife. 
This setup—and the straightforward elegance with which Geoghegan and company deliver it to the audience—is so beautifully laid out and simple that it could almost function just as well as a stage play. Perhaps with that idea in mind, the filmmaker summoned a cast of committed, constantly compelling stars to fill the parlor for this holiday season's conversation with the great beyond, and it's through that cast that Brooklyn 45 builds something bigger than a riff on a classic ghost story setup. Fessenden, Ramsay and Buzzington in particular seem to have the horrors of the recent war etched on their faces through each scene—even the happy ones—and their presence imbues the film with a greater sense of dread before anything supernatural has even glanced across the screen. It's a remarkably effective opening act, and it only gets better from there.
Once the supernatural elements kick in, Geoghegan manages them with a practiced combination of visceral intensity and capable restraint. The film's darkest and most intense horror elements arrive as punctuations on the themes he's building, not as crutches to carry the movie through stiff beats of dialogue, which means that when they land, they really land. One moment in particular made my blood run cold, and it's far from the only effective piece of horror filmmaking at work in Brooklyn 45. 
Over the top of all of this—the smart script, the talented cast, and the eye for horror gut punches—is Geoghegan's commitment to exploring and putting a personal stamp on a very effective and classic horror formula. Putting a bunch of people in a locked room and subjecting them to a séance is, of course, the launching pad for dozens of great horror stories, but the film's willingness to unspool the sublimated horrors of a war that's often only viewed through the lens of honor and liberty also roots it in certain other classic stories and themes. There are echoes in this film of Hollywood's great postwar dramas as well as its great ghost stories, making it a surprising and often poignant blend of The Best Years of Our Lives and The Changeling, and it's remarkable that Geoghegan is able to walk that line so well. 
While Brooklyn 45's particular style and pace might not win over every viewer who takes a chance on its combination of the classical and the modern, the universal and the personal, there's undeniable power to Geoghegan's accomplishment. If you're lucky enough to feel the presence built by this film, you'll find one of the most rewarding and impressive genre films of the year so far, and proof that Geoghegan has plenty more to offer us as a horror storyteller.
Director: Ted Geoghegan
Writer: Ted Geoghegan
Starring: Anne Ramsay, Ron E. Rains, Jeremy Holm, Larry Fessenden, Ezra Buzzington, Kristina Klebe
Release Date: March 12, 2023 (SXSW)
---
Matthew Jackson is a pop culture writer and nerd-for-hire who's been writing about entertainment for more than a decade. His writing about movies, TV, comics, and more regularly appears at SYFY WIRE, Looper, Mental Floss, Decider, BookPage, and other outlets. He lives in Austin, Texas, and when he's not writing he's usually counting the days until Christmas.