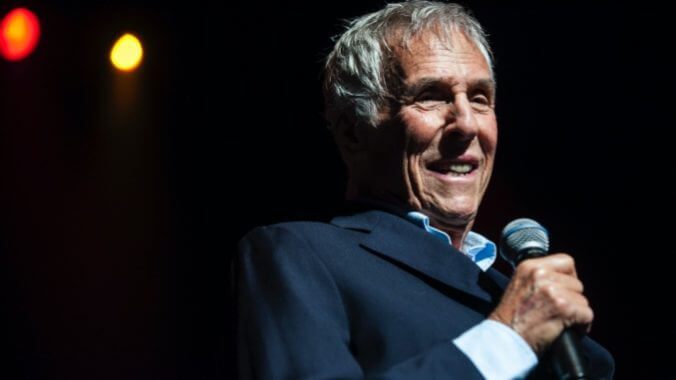 Artists such as Burt Bacharach create problems for the Rock and Roll Hall of Fame. The songwriter, who died Wednesday at the age of 94, never looked nor acted the part of a rock 'n' roller. But his songs—which were recorded by the Beatles, Dionne Warwick, Elvis Costello, Aretha Franklin, the Drifters, the White Stripes, Isaac Hayes, Love, Rod Stewart and Stevie Wonder—were a crucial part of the rock 'n' roll story.
Bacharach still hasn't been inducted into the Hall of Fame, and his songs do lack the country and blues elements that are the building blocks of rock 'n' roll. But he represents another, seldom acknowledged building block of the music: the Tin Pan Alley pop tradition of Irving Berlin, Meredith Willson and Harold Arlen so beloved by Clyde McPhatter, Elvis Presley, Paul McCartney and Patti LaBelle.
Like Berlin, Willson and Arlen, Bacharach was classically trained, which gave him a sophistication of chord voicings and melodic movement that only McCartney, Brian Wilson, Donald Fagen and Stevie Wonder could really match in rock 'n' roll's first two decades. Unlike his show-tune predecessors, Bacharach was able to accommodate that sophisticated music to rock 'n' roll rhythms and choruses, resulting in 29 top-25 pop singles in the '60s—and another 19 top-25 hits in England, often by different artists.
Consider, for example, "I Say a Little Prayer," a song that was a top-10 pop hit for Dionne Warwick in 1967 and the same for Aretha Franklin the following year. The verses have a dreamy, early-morning feel as they glide over the minor sixth ("The moment I…) before making a melodic leap on the minor second ("…wake up) and continuing to slide across the root and the fourth. This could be a love ballad from the first act of a Broadway show.
But on the chorus, "I Say a Little Prayer" shifts into a rock 'n' roll beat as the singer heatedly belts out the repeating phrase, "Forever and ever…." This back and forth between the elegant verse (better handled by Warwick) and the punchy chorus (better handled by Franklin) demonstrates how Bacharach was able to marry the fading American Songbook tradition with the emerging rock 'n' roll movement. He built a bridge across what others saw as an uncrossable chasm.
That's why Elvis Costello welcomed a collaboration with Bacharach for the 1996 movie, Grace of My Heart. That led to a full-album collaboration in 1998 under the title Painted from Memory. The songs that Bacharach wrote with Hal David in the 1960s suggested a path forward for pop music that few people followed, a bridge across historical eras that few crossed. If no one else was interested in that mix of tricky chord changes and feisty rhythms, Costello was.
"Some people think it's strange that we're working together," Costello told me in 1998, "but there was much more to pull us together than to put us apart. Burt recognized that I had a similar spirit of adventure in my music, especially in things like `The Juliet Letters,' as opposed to the roaring onslaught of my early stuff, which probably wouldn't have appealed to him.
"He stands out from the other Brill Building writers, whom I also like quite a lot, because he uses his classical training, without any self-consciousness, to create these wonderful harmonic effects. You'll find a subtle piece of rhythm contrasting with sudden explosions of drama and music, which is very European. Think of the bridge of `A House Is Not a Home,'" and here Costello warbled the bridge. "Where would you ever found a movement like that in a normal North American song? It sounds French to me. In that sense, he's very European, which makes it easier for someone like me to appreciate him."
Composer Bacharach and lyricist David met at the legendary Brill Building in Manhattan in 1957. There they joined such songwriting teams as composer Mike Stoller and lyricist Jerry Leiber; composer Carole King and lyricist Gerry Goffin; composer Mort Shuman and lyricist Doc Pomus; composer Barry Mann and lyricist Cynthia Weil. In the cramped cubicles of that Broadway office building, with only a piano and two chairs, these teams created some of the greatest rock 'n' roll songs of all time.
But Bacharach was different from his colleagues. He turned 30 in 1958 (David had done so in 1951) when the others were still in their 20s or teens. He had studied classical music in college and jazz piano in the clubs of New York. As a result, he wrote a different kind of song—less bluesy, more European, but delightful just the same.
After serving as an accompanist/pianist for Vic Damone, Joel Grey and Marlene Dietrich, Bacharach returned to the Brill Building and collaborated with a variety of lyricists before focusing on his work with Hal David. It was a smart choice, for David's deceptively simple words grounded Bacharach's elaborate music.
David provided the tartness of real life to Bacharach's romantic confections; someone from San Jose might come to Hollywood full of dreams and end up pumping gas; mere "Wishin' and Hopin'" will get you nowhere in the long run. And it was David who often summed up the entire message of a movie in a three-minute song lyric, whether it was the hollow hedonism of "Alfie" or the karmic death of "Liberty Valance." Compare that approach with today's best-selling soundtracks, where the songs have so little to do with the movie that one soundtrack could easily be switched with another.
"Hal David was an incredibly disciplined lyricist, from whom I've learned a lot," Costello told me in 1998, "though I can't say I've ever imitated him. His lyrics were always servants of the music; they were never trying to show off. And yet they told the story so clearly, so elegantly.
"As a lyric-driven person myself, I've never tried to show off, though I've often been accused of it. It's just part of my personality that if I say something one way, I try to twist it around another way in the next line. But in the context of these songs, I've tried to curb any tendency to call attention to the words. I think I've written more simply, more clearly than I have before."
It's not every singer who can balance the reverie of Bacharach's music with the earthiness of David's words, the musical theater of the verses and the rock 'n' roll of the choruses. But the songwriting duo found the perfect vehicle for their songs when they heard Dionne Warwick singing harmonies at a Drifters' recording session. Because she was trained as a gospel singer, she was familiar with piano-based songwriting and was able to shift from the somber to the exuberant without a hiccup.
Bacharach and David enjoyed several frequent, gifted vocalists—most notably Dusty Springfield, Gene Pitney and Jackie DeShannon—but Warwick was the most compatible of all. She sounded as if she were singing lines from her own diary, even as she was finessing the tricky note intervals and chord changes.
As a result, those musical flourishes never seemed gratuitous; they seemed the natural extension of Warwick's own emotions. And when she got to the rhythm hooks, she banged them out like a gospel soloist pounding a message home. The result was a series of imperishable singles such as "Anyone Who Had a Heart," "Walk on By," "A House Is Not a Home," "Alfie" and "Do You Know the Way to San Jose."
Having enjoyed a Broadway hit for 1968's Promises, Promises, and having won an Oscar for the score to 1969's Butch Cassidy and the Sundance Kid, Bacharach hoped his score for 1973's Lost Horizon would establish him as a Hollywood regular. Instead it was a disaster. A dispirited Bacharach declined to write and produce Warwick's next album, as contracted. Warwick sued Bacharach and David; David sued Bacharach, and the team broke up.
None of the three was ever the same again. Though they each enjoyed the occasional hit, the composer, the lyricist and singer floundered—creatively and commercially—without their partners. So it was a surprise when Costello partnered up with Bacharach in the late '90s for an unexpected late-career revival for both of them.
On March 3, just 23 days after Bacharach's death, Universal Music is releasing a four-CD box set, The Songs of Bacharach & Costello. This package includes not only a remastered version of the 1998 album, Painted from Memory, but also studio and live reworkings of those songs by Costello & the Imposters and musicians such as Bill Frisell, Cassandra Wilson and Jenni Muldaur. Also included is a disc of live recordings of Costello singing Bacharach-David classics. Here, at long last, we find all the aspects of their collaboration, released and unreleased, in one place.
"Later on in the Bacharach-David years," Costello told me, "you're getting more ambitious songs like `Windows of the World,' which is tremendously sophisticated. It's quite different from the more straightforward R&B songs, such as `Walk on By,' that he was doing earlier. It's almost like an art song, but it's so clear and easy to understand. Some people think 'art song' is a terrible label to put on a song; it makes it sound like Schubert. But it's not so scary; those songs are actually quite easy to enjoy."