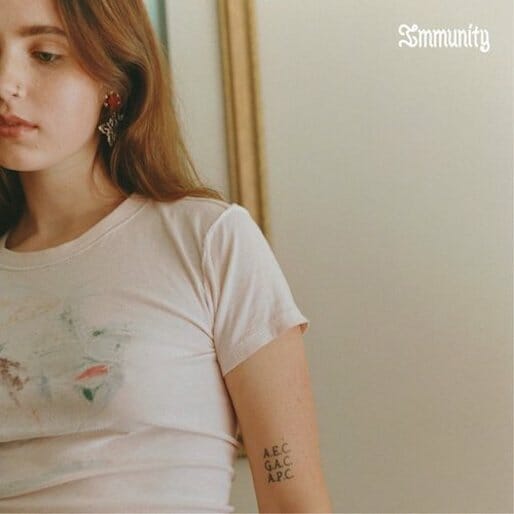 Clairo—aka 20-year-old Claire Cottrill—has been through a lot already. The 2017 video for her lo-fi track "Pretty Girl" which she made on MacBook's Photobooth, reached over 36 million views on YouTube. When she released the video, she was just a freshman at Syracuse University, and she already had record labels fighting to sign her.
After signing with Fader, social media users were quick to pelt her with the "industry plant" title because her father knew The Fader's co-founder whose label eventually signed her. Clairo always admitted that her father's connection helped her and never really placed herself in the DIY box, but found herself, at a very young age, already having to justify her credibility as an artist.
Despite the criticism, she quickly found a fanbase with young millennials and Gen Z. She released her debut EP, diary 001, in 2018, collaborated with artists like Cuco, Rejjie Snow, SG Lewis and Wallows and she's now opening for Khalid on his American arena tour. Clairo planned to make her second EP, diary 002, with Rostam Batmanglij (formerly of Vampire Weekend), but those sessions turned into a full album—her 2019 debut LP Immunity—which she co-produced with Rostam.
After years of releasing demos on SoundCloud and Bandcamp, including songs under the name DJ Baby Benz, Clairo has dabbled in everything from pop and rap to R&B and indie. One sonic trajectory is clear—her music has increasingly shifted away from hazy sketches and bloomed into hi-fi recordings. Immunity retains her past dreaminess via noodling synths, but her vocals are now at the front of the mix. She might not have fashioned herself as much of a singer before, but her silky voice is the lifeblood of this album.
It's hard to get away with intense wistfulness unless you have a strong sense of melody and a voice that helps the listener sulk in the gloom, and Clairo has no problem in either department. On "Alewife," Clairo sings of the time a friend stopped her from committing suicide in eighth grade, and though the lyrics hold a heartfelt bluntness on their own, it wouldn't cut as deep if her voice wasn't so consoling and nonjudgmental.
If there's one thing that impedes her graceful, cushiony coo, it's occasional overproduction—usually on the verses. On "Closer To You," this contrast is glaring. The impersonal, autotuned opening vocals are quickly upstaged by those on her dazzling chorus —even the memory of Clairo belting the refrain of "The things you do" will make listeners teary-eyed.
It's not surprising that nearly every song on this record is about relationships. Every teenager and twenty-something is simultaneously paralyzed and driven by romance—crushes, significant others, friends that you wish were more than friends, etc.—so it's hard to fault Clairo for using it as her sole songwriting inspiration. In some places, her storytelling is compelling, with details illustrating universal truths about the confusion of young romance. "Bags" captures the unease of being in someone's presence when they don't know you have feelings for them: "Every minute counts / I don't want to watch TV anymore / Can you figure me out / Just doing this to waste more time on the couch."
Other times, it feels like she's repeatedly hammering the same point or relying on clichés. On "North," one of the most memorable tracks melodically, she sings of pillows that still have the scent of significant other, and on "Softly," another strong cut, she sings about warring internal monologues—knowing you should leave, but wanting to stay—and expectedly succumbs to her romantic desire. It's a strong, proud display of a queer woman doing whatever the fuck she wants, but on the other hand, it doesn't do much to highlight the complexities of such relationships.
There's no doubt Clairo's feelings are intense and pure-hearted. Unless you approach this record with the acceptance that she's about to unload romantic angst to the nth degree, you likely won't be buying what she's selling. Clairo's army of listeners are likely more interested in the candid emotional sentiment behind these songs than her lyrical adroitness, and to her credit, it does captures the do-or-die philosophy of young love to a T.
The three song combo of "Bags," "Softly" and "Sofia" is where Immunity really hits its stride. "Bags," the album's lead single, is the record's clear standout with Clairo's velvety vocals recorded and mixed to perfection. It's hard to think of a more satisfyingly crisp vocal track from the past year than the one Clairo delivers here. "Softly" and "Sofia" are some of her most instantaneous and stomach butterfly-inducing songs with the former accented by a children's choir (further underscoring the earnestness and innocence of young love) and the latter offering a surprise Strokes-y intro and videogame-like synths.
But the instrumental backbone of Immunity is a mixed bag. The guitars occasionally employ overused, reverb-heavy slacker tones ("Impossible," "White Flag"), and some of the electronic percussion distracts from her vocal allure.
Clairo is at her best when her heartbreakingly relatable lyrics match up with her unfettered vocals and enthralling choruses. Songs like "Bags" and "Feel Something" are at their core, great pop songs. It's hard to believe that two years ago, the artist behind some of 2019's most luxuriant pop tunes was a Syracuse freshman. It's when Clairo leans into her more vibey, loungey sides that her music can appear interchangeable with other trendy new subgenres.
Immunity is a smoothly-produced pop record about queer relationships—there's no discounting the value of these stories in the lives of queer people and the population at large. Her sultry confidence and steadfastness, even in the face of anxieties and insecurities, is empowering. Immunity has just enough unforgettable glimmers to justify Clairo's buzz. The question is whether listeners who weren't already head over heels for her previously released music will hop on board too.