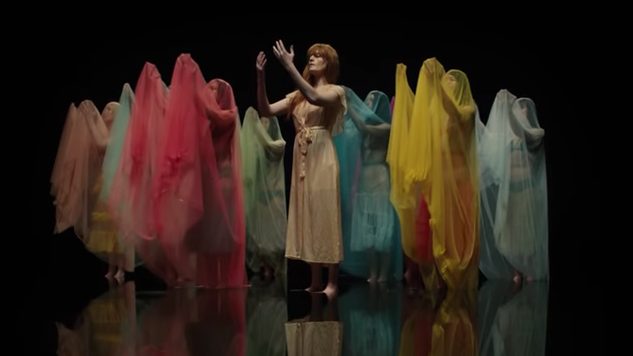 There's only one more week of waiting on Florence + The Machine's fourth album, High As Hope, out June 29 via Republic Records. On Tuesday, the English songsmith and her band shared the album's third single, the powerful "Big God." Now the accompanying music video, previously an Apple Music exclusive, is available for all to see. Watch it below.
Jamie xx (of The xx) is a co-author on "Big God," and there's also a supreme saxophone staging by Kamasi Washington. Sampha, Tobias Jesso Jr, Kelsey Lu and Thomas Barlett are also confirmed collaborators on High As Hope. Two other singles, "Hunger" and "Sky Full of Song," have already been released.
Florence Welch said of "Big God" and the surreal accompanying video, directed by Autumn de Wilde:
"Big God" was written about that feeling when someone has not replied to your text, the modern phenomenon of 'Ghosting' which is one of my favourite words but not my favourite feeling. I was describing it to someone and they said to me "You need a big god," as if the need in me were so cavernous, it would take something enormous to fill it. Probably something bigger than a text message.
It's always been a very physical song. I saw a dance piece in my head as I was writing it, so to co choreograph something with Akram Khan was a huge honour. Autumn de Wilde fully understood what I was trying to do. The power of the desire within the void, left with yourself to rage and wonder and really it is yourself you are raging against. Not the ghost.
Khan's utilitarian choreography makes for a visible contrast against the dancers' airy costumes and the video's black hole backdrop, which looks a bit like the inside of Eleven's mind circa season two of Stranger Things (and presumably, it's meant to depict the inside of Florence's). The performers also channel a darker side of Singin' in the Rain as they mop themselves across the puddled floor.
Florence + The Machine are also heading out on a world tour in August. On Thursday, they added a Hollywood Bowl show on Sept. 26 and a Washington D.C. concert on Oct. 6 to the calendar. Find the rest of their dates here.