Frances Bean Cobain Previews New Original Song on Anniversary of Kurt's Death
Photo by Dimitrios Kambouris/Getty
Music
News
Frances Bean Cobain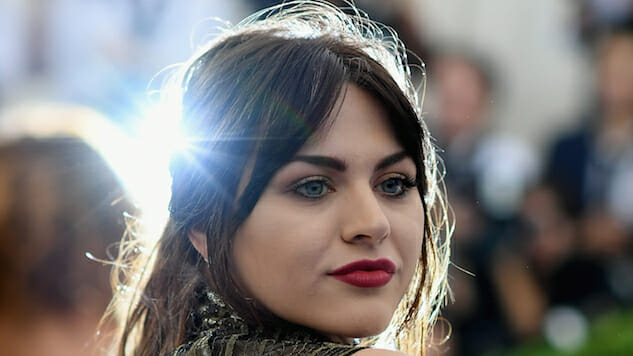 Frances Bean Cobain has previewed a new original song on the 24th anniversary of her father Kurt's death back in 1994.
After previously sharing covers of Jimmy Eat World's "The Middle" and Leonard Cohen's "Hallelujah" on Instagram, she posted a snippet of a new original song, as Stereogum points out. 23-year-old Cobain sings her new verses, a capella style: "I think I saw you when I was small / I think I found you / A penny for your good thoughts / I think I found you / Jesus hangs in your place on the cross / All these hinges become unscrewed / Heaven knows it was a cage on earth."
Cobain also shared more lyrics in the comments of her Instagram post: "Stable sable sold her heart / No one asks her why she hides in a basket in her house in a box / Find a fiend who reigns supreme in May / Fast enough for blooming buds to lay their egg."
Cobain also reminds her followers in her caption, "pls don't steal my baby bean of an idea." Watch a snippet of her new song via Instagram below, and clips of her Jimmy Eat World and Leonard Cohen covers further down.
[Ed.: Cobain has removed the preview from Instagram, as you see, so we'll just have to hope that her song gets an official release (and enjoy her covers in the meantime).]
2px); width:calc(100% 2px);">
2px); width:calc(100% 2px">
2px); width:calc(100% 2px">