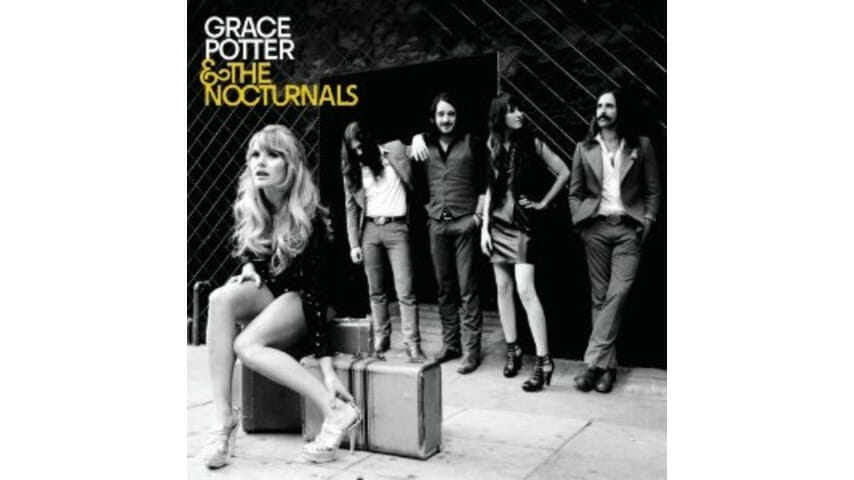 She wants to lead the glamorous life
Once a rootsy, crunchy outfit with pronounced Muscle Shoals influences, Grace Potter & The Nocturnals broke out of Vermont through performances at blues fests, hippie jams and Bonnaroo, powered by a siren-voiced knockout who echoed Bonnie Raitt and could really throw down on the Hammond B3. So when word came in spring 2009 that the band was recording with T-Bone Burnett, Potter and The Nocturnals' ascent into modern country-rock royalty seemed imminent.
But something funny happened on the way to this slender fourth album: T-Bone was replaced by producer Mark Batson (Dr. Dre, Jay-Z, Dave Matthews Band), the band's lineup was shuffled and their soulful, groove-based sound somehow became glammed-out pop-rock.
While not quite an extreme makeover, the 13 tracks from Potter's new-look Nocturnals are swathed in a pop-metallic sheen, methodical background vocals and lots of cooing where there used to be swanky soul. The record shifts to a later part of Potter's beloved '70s, and the commercial play could only feel more calculated if it featured a Drake cameo. Heavy on the breathing, lipstick and Betty Boop squeaks, opener "Paris (Ooh La La)" sets the LP's tone as Potter howls over a synthetic groove; "Tiny Light," one of six Potter/Batson co-writes, sounds pre-approved for a scene of great importance on Gossip Girl; and the piano-driven rave-up "Hot Summer Night" is laden with palpable effort and Potter's clunky lines ("Even though it's the middle of the winter and it's really bad weather").
There are hints of the band's previous life here —"Oasis" seems to strikes the roots-pop balance they're going for, and "Goodbye Kiss" is perfectly fine barroom reggae — and Potter rarely misses a chance to show off her killer voice, but The Nocturnals' crucial swagger has sadly been scrubbed clean away.