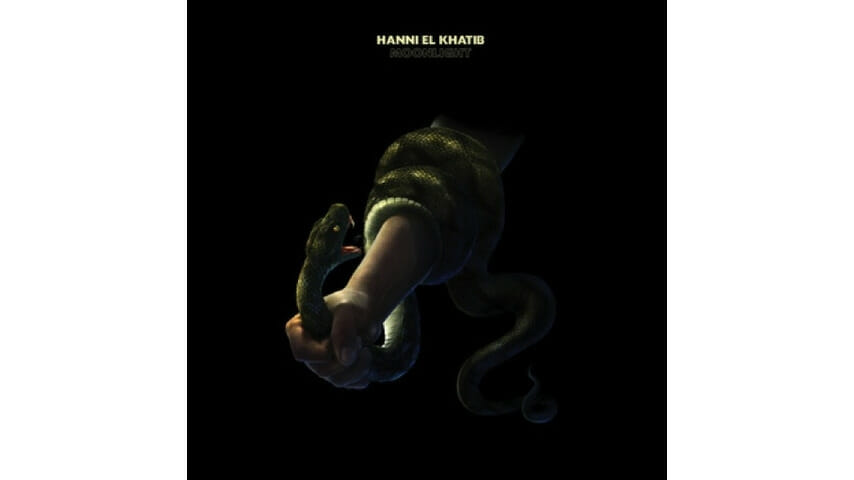 Hanni El Khatib went from being a relative unknown in the music world to an indie-rock darling in what feels like no time. The L.A.-based songwriter may have gotten his start as creative director for a skateboard fashion label, but since his 2011 release, Will The Guns Come Out, it's been all about the tunes. Khatib hooked up with The Black Keys' Dan Auerbach out of mutual admiration, and Auerbach ended up producing Khatib's 2013 release Head In The Dirt. Khatib's work with Auerbach helped to thrust his music into the limelight and ended up resulting in songs being featured everywhere from Super Bowl ads to episodes of House. With an unparalleled level of attention for this songwriter, Khatib is now prepped for the release of his third full-length, Moonlight.
Fans of Khatib's previous work will surely enjoy plenty of what Moonlight has to offer, mostly because there's nothing that really stands out as bad on the release—maybe just a little bland. Throughout the duration of the album the vocals are washed in thick reverb and frequently double-tracked, making for an effect that feels as dreamy and hazy as it does distant and despondent. When the vocals are sitting at the forefront as on tracks like "Servant," then the album thumps and beckons the listeners to immerse themselves in the tenacity on display. However, more often than not, the vocals have wiggled snugly into the mix, falling by the wayside with the rhythm section.
Which brings up another point that should be tackled: on Moonlight, the rhythm section varies between bright and buoyant rhythms and seemingly blasé efforts. "Chasin'" and "Mexico" are excellent examples of what Hanni El Khatib can do right; they're vibrant songs that truly stand out from the rest of the album. Whether it be the groove-driven bass and subtle horn hook that defines each vocal line in "Chasin'" or the tight, simplistic percussive additions brought about in the slow-churning "Mexico," it's clear that this band has the potential to create some really exhilarating music, but chooses to coast on auto-pilot throughout the bulk of this release.
The entirety of Moonlight is soaked in a blues-inspired swagger that has the capacity to take your standard perception of garage rock and turn it on its side. While the sound as a whole is refreshing, it feels like Khatib has fallen in line with expectations here. There's a line on "Dance Hall" that pretty succinctly sums up the fascination found within Moonlight: "Static from a broke TV still looks cool to me," Khatib croons. It's a statement that proves that it's possible to find wonder and excitement within something that's not usually deemed incredible. Chances are if you're down with staring absently into a static image for a while, then you'll thoroughly enjoy Moonlight. It's got a handful of great tracks that boast catchy hooks and compelling instrumentation, moments where each individual instrument truly has a chance to stand out. However, it's mostly filled with songs that sound uninspired, just bluesy takes on emotionally driven garage rock songs.
But every album doesn't have to be innovative in nature, and that's why it's still easy to find a lot to enjoy about Moonlight. Khatib's vocals may not always stand prominently in the mix, but it adds quite a bit more texture to the song to have these slightly dissonant vocal tracks nestled into the mix. And while the rhythm section is fairly basic throughout the album, there are a few bright moments when simplistic rhythms turn into entrancing bass lines or brisk drum fills. So while these moments of musical clarity might make Moonlight worth a listen, they likely won't warrant a plethora of repeat spins.