Hot Chip on the Streamlined Joy of Their New LP, A Bath Full of Ecstasy
Photo by Ronald Dick
Music
Features
Hot Chip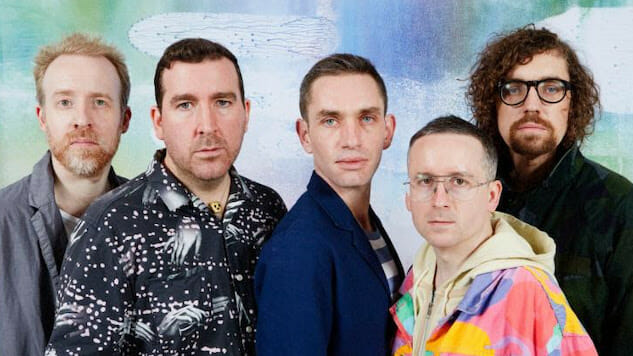 When Hot Chip released their debut album Coming on Strong in 2004, rave-inspired, indie dance music had largely gone out of style, replaced with the scrappy garage rock revival that dominated the British scene for the remainder of the decade. But Hot Chip went against the grain with their thoughtful, mercurial dance music, pushing the boundaries of what a dance band could be. As the quirkier British counterparts to LCD Soundsystem, Hot Chip helped make dance music cool again with their nerdy art-pop aesthetic and influences spanning everything from U.K. garage to Detroit house music.
Their climbing melodies, packaged with a club beat and synths that pump, sizzle and gleam, have led to a consistently jam-packed international touring schedule and seven acclaimed studio albums. Songs like "Ready for the Floor," "Over and Over" and "One Life Stand" each possess a bittersweet longing, contagious danceability and zany personality.
With a burning desire to shake things up, Hot Chip's members—Alexis Taylor, Joe Goddard, Felix Martin, Owen Clarke and Al Doyle—decided to throw away their playbook for their newest album A Bath Full of Ecstasy (out now via Domino Records), their snappiest record to date.
Hot Chip self-produced all their previous albums, but this time around the group decided to give two accomplished producers the keys to enter their rich musical metropolis for the first time—the late French producer Philippe Zdar of Cassius, whose credits include albums by Phoenix, Franz Ferdinand and Bloc Party, as well as Scottish producer Rodaidh McDonald, who's worked with The xx, David Byrne and Sampha, among others. The album distills everything great about Hot Chip—whimsical vocals, fluid synths and exhilarating rhythms—and contains just as much of a towering emotional sway and festival-ready sound.
Instead of writing escapist pop hurrahs that quickly deflate, Alexis Taylor harnesses the power of mindfulness, which he injects into first-person musings on joy and romance. A Bath Full of Ecstasy seeks to arrive at transcendent happiness, not through a transient high, but with a focus on the present moment. Taylor isn't perfect, but he engages in necessary self-inquiry rather than blindly seeking euphoria. Hot Chip have proved their ability to satisfy the human desire for the rhythms we can't resist, but they also deliver a level of wisdom often lacking in dance music.
Paste caught up with Hot Chip's synth and drum machine wizard Felix Martin to get the scoop on how A Bath Full of Ecstasy came together. Most notably, Martin described his experience working with Philippe Zdar just before the news of the producer's tragic death last week. Read the interview below, which has been edited for clarity and length.
Paste: You guys chose to work with outside producers for the first time on this album. Where did that desire come from?
Felix Martin: It was just a desire to do things differently and recognizing that you can't keep doing things the same way because it gets quite boring for you as an artist and for people listening to the music. We all recognize you need to set new challenges and put yourself in slightly different positions in order to provoke a different response artistically. We've worked with lots of different people before, mixing engineers and people in professional studios, but we've never had someone that was allowed to come in and have an opinion on how the songs should go.
It sounds like Philippe and Rodaidh had really different styles of working. Can you talk about that dynamic?
You couldn't really choose two more different people to work with. Rodaidh is quite analytical and thinks about the end product a lot. He's very goal-oriented in terms of "What is this music for? Is this a radio single? What's the edit gonna be like on Spotify?" And then thinking in terms of "There needs to be a bridge here. There needs to be a chorus and there needs to be an eight-bar hook." He was much more into the jargon of writing pop music, which is really an amazing skill to have because it's not something we're able to do. Whereas Philippe was much more an experience guy, and it's all about being in the studio until 3:00 a.m., creating a social feeling amongst the band and the people working on the record in a much more traditional kind of rock 'n' roll sense. And he's into making long edits of music. He doesn't worry about trying to make things into three-minute pop songs. It was a contrast in approach, and I think that's reflected in the way the album was put together.
Did you seek out those specific producers?
We met a few different people. We just got on with them, and it was a quite experimental process. We realized we probably couldn't do the whole album with Rodaidh or with Philippe, so it was a bit of a magpie approach, just picking and choosing what worked for us and going from there. Maybe it will change the way we work going forward. I wouldn't be surprised if we make another album, working with one producer right from the start. It was slightly problematic in that a lot of the songwriting and music creation had already happened prior to the sessions we had, especially with Philippe, so that slightly diminished the effect he could have had over music.
Rodaidh pushed you guys to rewrite lyrics and change some songs dramatically. What was that like?
He was never confrontational at all. He's a very mild-mannered, chilled-out guy. He's not screaming at you to do something. He's just very honest. He doesn't really bullshit you and say that he thinks something is finished when he feels like it could be improved. And that is a very valuable skill to have, and you have to learn as a musician to try and respect that, even if it goes against your own instincts. It's important to follow these ideas through. It's a problem with all forms of creativity, whether it's music or painting or anything else, knowing when to say something's finished. That is definitely something we've struggled with over our career. It's quite an editorial thing. That's what Rodaidh was really good at. You could almost say editor, rather than a producer in some ways because he would always look to make songs work better in a shorter, more punchy way.
You used some newer modular synths this time around. What did that bring to this record?
Yeah, that's something that I'm really into. That definitely allowed me to contribute in a more meaningful way then I probably have done previously because I'm only really into creating music synthetically, and I've never been very proficient at playing instruments. I'm much happier setting up synthesizers to do the work for me, creating random melodies or melodies generated from algorithms and things like that. They're fleeting, little moments in the music, but I think they add a different texture and a different vibe to some of the electronics on the tracks, and Philippe was really keen on that stuff. He pushed that more than it would have been had he not been in charge. I liked him for that reason because he highlighted what I was doing.
Joe and Alexis originally wrote "Spell" and "Echo" for Katy Perry, but then reworked them for this album. Did those tracks have a big evolution?
I was surprised that they wrote one track on her album ["Into Me You See"] and it's a ballad. I thought it would've been a fun pop song. We ended up with the leftover bits they'd written, being very much obvious pop stuff, and those songs ended up being something more interesting than that.
How do you think this album fits in with the rest of your discography?
The problem we've always had, looking back on older albums, is that it's not been edited very well. I'm proud of all our records, but some of them have like 12 or 13 tracks, and they're really long and a bit baggy. This time around, we had a lot of music. There were probably 20 tracks in contention to be on the record. If we were left to our own devices, it probably would've been 10 or 12 tracks long, similar to the other albums in the sense of not being very focused, but we've had more advice from the label, management and producers to make it more concise.
Joe and Alexis have talked about their dislike of escapism in pop music. Do you find it hard to make mindful music that brings joy to people?
Not really. I don't ever find writing songs or being in the studio difficult or challenging. It's always just a pleasure. I don't mean this in a cheesy way, but it's such a privilege to be able to do it as a job. I don't ever struggle with it. Music is just what happens. For me, it's more about experimenting. It's almost sculptural, just sitting with synthesizers and seeing where it goes. That's a really beautiful thing because it's not really tied to anything else. Maybe if you asked Alexis or Joe, you'd get different a different answer. They have to write lyrics and think about things a bit more consciously. Maybe I'm lucky that I don't have to think about things like that.
It's been 15 years since your debut album. What do you think you'll be doing 15 years from now?
Gosh, I really have no idea. I'm really bad at predicting the future. Hopefully, something sustainable and surrounded by trees and living in a forest or something. That would be something I'd be happy with. I'm a bit fed up with living in London, so I could definitely imagine myself moving away if I can convince my wife.
A Bath Full of Ecstasy is out now via Domino Records