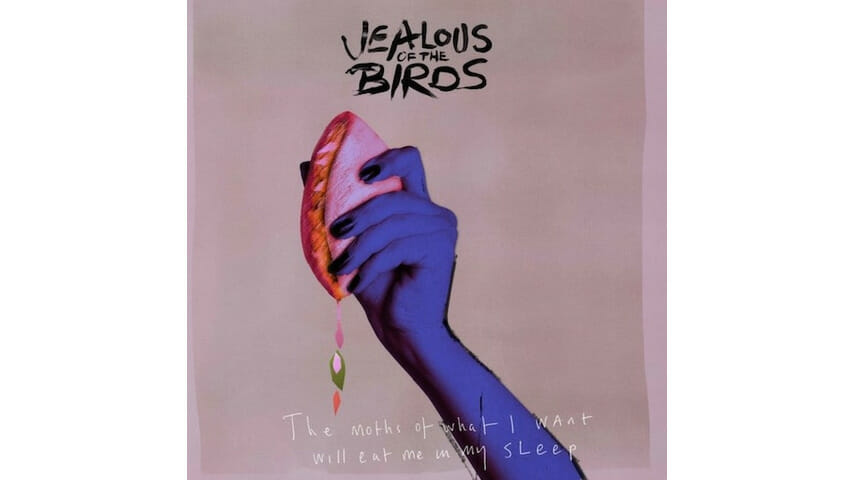 Naomi Hamilton pursues an unusual strategy on her new EP as Jealous of the Birds: four of the five songs appeared on her 2016 album Parma Violets, in slightly different form. The changes are subtle, but the songs are excellent, so think of it as a second chance to discover the singer from Belfast, Northern Ireland, before she breaks out.
Hamilton writes literary lyrics, delivering precise, evocative images with the confident air of someone who thinks a lot about words and their meanings and how they fit together. Sounds right: she began writing songs a few years ago while studying English and creative writing in college. The first line she sings on "Trouble in Bohemia" is, "I'll buy a van the color of Christ's blood," and you've got to figure that's probably not a stock color. Then there's "Plastic Skeletons," the new song on the EP, where Hamilton sings, "Notebooks filled with dirty poems / All slanted like hip bones of women / Who stand and twist the cords of telephones," her breathy voice rising and falling in a dizzying sing-song over a bright, keening electric guitar line that gives the song an Eastern tinge.
Though her songs have a vintage feel, it's filtered through a wide-ranging sensibility with modern touches. Along with the sitar-like guitar drone on "Plastic Skeletons," she dials in pastoral woodwinds on "Miss Misanthrope" and a shaggy combination of acoustic guitars and drums on "Trouble in Bohemia." There are dark glimmers of electric piano on "Tonight I Feel Like Kafka" and punky, overdriven guitars on "Russian Doll." Whatever the musical accompaniment, Hamilton sings with poise and self-assurance in a voice equally capable of whiskey-toned murmurs and full-throated melodicism. Either way, she has a magnetic presence that makes these songs mesmerizing, even the second time around.