John Cale on "Hallelujah": "There's Something About Everybody in a Leonard Cohen Song"
Photo by Abby Portner
Music
Features
John Cale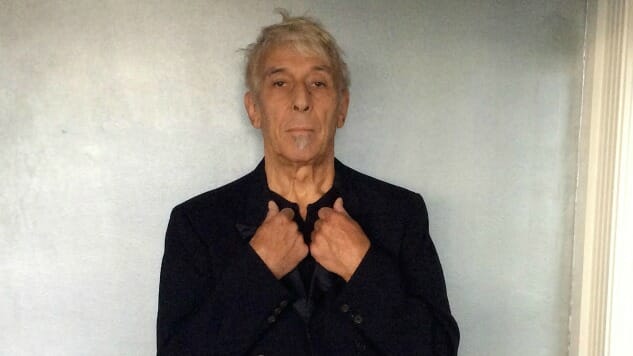 It's hard to know where to start when considering John Cale. Practiced in a whole spectrum of genres, the 74-year-old Welsh composer, singer, songwriter and producer began his long, storied career in New York in the '60s alongside Lou Reed in art-rock pioneers The Velvet Underground. He likewise helped produce iconic works like Patti Smith's Horses (1975), The Stooges' self-titled debut (1969) and Nico's The Marble Index (1969). Cale has also led an incomparable solo career, the highlights of which are captured on his 1992 live album, Fragments of a Rainy Season, which he reissued via Double Six/Domino Records earlier this month.
Among the live record's many gems is Cale's piano-only rendition of Leonard Cohen's "Hallelujah," which he famously included on the 1991 tribute album I'm Your Fan and reformatted to only comprise its cheeky verses (i.e., no biblical references). There's also his booming 1973 anthem "Paris 1919," the 1975 ballad "I Keep a Close Watch" and his and Reed's 1992 homage to Andy Warhol, "Style it Takes."
Cale hopped on the phone with Paste to delve further into his latest reissue and its revered track list, plus expound on why he's glad he rearranged Cohen's "Hallelujah" the way he did.
Paste: What led you to reissue this particular live record?
John Cale: I [reissued] Music For a New Society, and that was because it hadn't been available for a while and people were asking at gigs and all that. I knew there were a lot of tapes I hadn't listened to. And a lot of performances.
For Fragments, I set out to make a live recording, and I made sure that every concert we did in Europe (I think there were eight of them), we organized the recording every day. We'd drive around in the truck and set up and make sure that we could grab everything and make everything accessible. We made the setlist the same every night, so you knew where it was on the tape. But then there were all these other things that happened: There were solo performances all over the place, in Melbourne and in Wales. I haven't listened to any of that.
What we had was this small Steinway that we travelled with—this funny little crane that France had made for the space program. We took the piano off the truck, rolled it onto the crane and wheeled it into the gig and put it up on the stage and then assembled it. It was a Steinway, but it was sharp. So everywhere else we went, in the other tapes when I went to them, there were these nine-foot grands, and they sounded tremendous.
Paste: So Fragments' minimalist arrangement wasn't intentional from the start?
Cale: No, the idea was about the songs. It was a focus on how you present the songs. I have some solo guitar stuff there. But the piano, what I wanted to do was to focus on the perfect thing in the song and who the character was this time with the song. It changed every night. Some nights he would be angry, sometimes singing—he'd be funny about it. It really was about mood and how do you change the mood of the song. So I was doing it just to see what kind of situations came up. Different emotions and moods.
Paste: Right, it does place so much more of a focus on the singer's voice and its nuances.
Cale: Yeah, it gives you more control, too. I mean, you can push the performance in several different directions.
Paste: One of my favorite songs on Fragments is your rendition of the poem "Do Not Go Gently Into That Goodnight."
Cale: Growing up in Wales, you're imbued with [the poet] Dylan Thomas from an early age. It's ingrained in the education system. It's like a major pillar of Welsh literature. It was at a time in my life when I was trying to figure out what I wanted to do with rock 'n' roll and why did I turn to rock 'n' roll when I was brought up as a classically trained musician.
So I went back to my roots; I went back to Dylan Thomas. I just bought a copy of collected poems, I put them up on my piano stand and [said], "Okay, now we're going to do them all. And we're not going to stop until we do them all." I looked at them and saw how different environments, the topics of the songs fit together. The four that I had to make the Falkland suite—Words for the Dying. I got lucky with the idea to do the Tango to "Do Not Go Gentle." So it was fun at the time. And it always worked live, anyway.
Paste: I also love your quoting Macbeth on the album sleeve. How did that come about?
Cale: Oh that, yeah. That came from Joseph Kosuth. He designed the album cover and it blew me away when I saw what he'd done. He's a master of his art. It's based on woods. He hit the nail on a head.
I used to be able to run off [Shakespeare] lines and stanzas, but I can't anymore. You just sort of find use for doing that. It's a funny thing, in England, you would do that all the time. If I had been living in England for the past 30 years, I would be much easier at quoting Shakespeare and doing it as part of everyday life, which people over there do. But here, not so much.
Paste: Then there's the video you just did for your rendition of Leonard Cohen's "Hallelujah." I would love to know the genesis of the idea to have insects creep up on the piano keys and on your face. How was that to film?
Cale: It's really about you're always faced with mortality, it's there. Decay is present always. To try and put it like that, in any phase, is making a point.
Paste: Now that Cohen is no longer with us, it now feels like every rendition of "Hallelujah" feels more significant than ever. What did the song mean to you when you rearranged it, and what does it mean to you today?
Cale: Yeah, I'm glad I didn't take on singing the liturgical verses. I didn't take on the religious side of the song. There's something about everybody in a Leonard song. He manages to walk from one side of the room to another. He has something for people to relate to in a very elegant way. He's always a poet. That's what I'm glad I did over the years, was to stay away from the religious side. I'm not a religious guy. But I was interested in, in how… I asked him what that meant to him as a Jewish religious figure—I think he was trained to be a rabbi. I'm always interested in Zen. It's a special little corner of my life. It was pretty funny. Then I've read an article by his rabbi that I think was written after he died, but it was a beautifully written essay in the Jewish Chronicle about [how he] was Leonard Cohen's rabbi. And he talked about the view of the world that was broken and how Leonard approached from that point of view. It's a fascinating description of how creativity worked its way around mortality. He's going to cross over from being a believing human being to singing about being something that was not. He would cross that boundary of life and death, and that's really one of those intriguing things.