Watch Matt Berninger Rap About Long Words for Sesame Street Spinoff Helpsters
Image via Apple TV+/YouTube
Music
News
Matt Berninger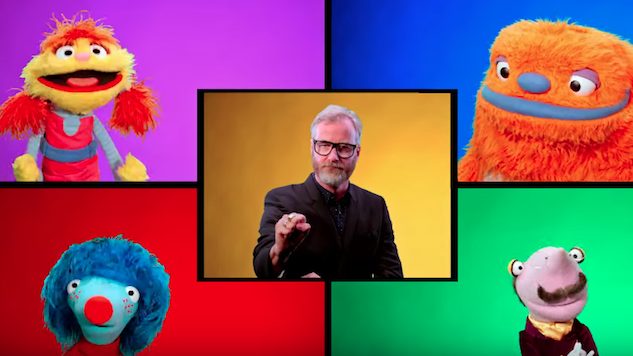 With a new National record featuring a number of outside vocalists and appearances on tracks with CHVRCHES, Julien Baker and Phoebe Bridgers, The National's Matt Berninger has done a lot of collaborating over the past couple of years, and he's back at it again—this time with the very obliging puppets of Apple TV+'s Sesame Street spinoff, Helpsters. The new streaming service posted a clip of Berninger's appearance to YouTube Sunday, in which he conducts a beatboxing choir of four puppet friends and raps about the appeal of long words.
Helpsters aims to teach children not only the importance of helping others but also the fundamentals of coding and problem-solving, emphasizing how to tackle obstacles step by step. As accommodating and sequence-oriented as the Helpsters are, they still pronounce Berninger's name wrong. There are two "n"s in there, friends.
Paste's TV editors found Apple TV+'s slate of originals a mixed bag, Helpsters included. "[Y]ou wouldn't expect the people behind the long-running, iconic and adored Sesame Street to come up to come with a mediocre kids show," wrote Amy Amantangelo, "But alas, my friends, they have." Still, we've got to thank them for giving us the opportunity to hear Berninger deliver a rap that shoehorns in the word "sesquipedalian" ("That means long"). He was an interesting choice for the segment considering that The National's lyrics, while literary, aren't usually too much of a mouthful. If Berninger wants to take his long word game up another notch, he could take a lesson from Joanna Newsom.
Earlier this month, Berninger teamed up with Bridgers and Fiona Apple to bring us a devastating new take on Simon & Garfunkel's "Silent Night / 7 O'Clock News." He also announced a forthcoming solo album, Serpentine Prison, back in November (release date TBA).
Watch "The Long Words Song" below and check out The National's 2007 Daytrotter session further down.