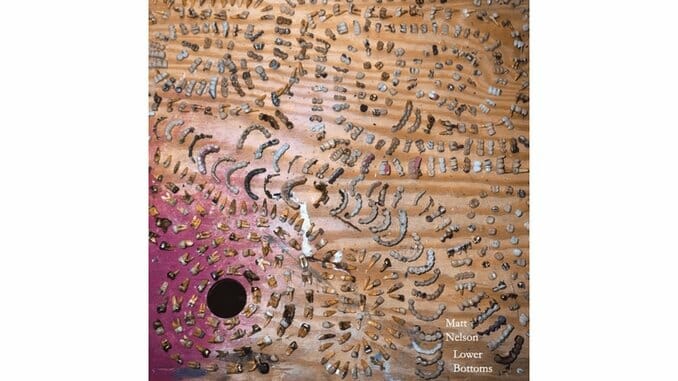 In some twisted universe players like John Butcher matter so deeply that more than a handful of people would attend the saxophonist's performances. As it is, the British improviser blows the soul out of his horn in a lineage drawn from a noisy and capacious underground that includes everything from free improvisation to free jazz and minimalism. Matt Nelson is his progeny.
Nelson, who's likely best known for work on tUnE-yArDs' 2011 album Whokill, shows up across Arts & Sciences releases as well. The East Bay improv troupe is most likely to play DIY venues and art galleries, its cultish brand of music making—as well as Nelson's new Lower Bottoms—further working the saxophonist into a trajectory similar to Butcher's. For Nelson's first release under his own name, though, he goes it alone. The disc's not even the performer top-billed over an ensemble of sundry and talented players. It's just Nelson. Lower Bottoms is clearly a Butcher-esque screed, but also wrestles with an identity that's been formed by Nelson's stints on both the East and West coasts, as well as working in a number of different settings. Arts & Sciences was capable of getting all boozy and downtown noir, but Lower Bottoms sounds soulful and introspective, if not explosive.
Pulled out over the course of four tracks, the shortest coming in at about seven minutes in duration, Nelson lets listeners hear the mercurial sound of his ideas bounding from a horn, running through various pedals and flowing out an amp that at times lends the whole endeavor a bizarre timbre. Some of it's clearly unplanned. But some of the recording is clearly predetermined, explaining obtuse titles like "Sunk Coast," or the general ennui of "To Believe In What." But the beautiful symmetry of all-consuming preparation, random happenstance and technology gets heaped on listeners again and again. One of the most stunning performances on Lower Bottoms, however, comes unadorned by electric artifice as Nelson blazes through 10 minutes of soloing on the aptly named "Motor Mouth." What Nelson might be jabbering at here, or on Lower Bottoms as a whole, isn't quite clear through all the skronking. And, sure, it matters to some degree. But the creative veracity spewing out should take precedent to any perceived narrative.