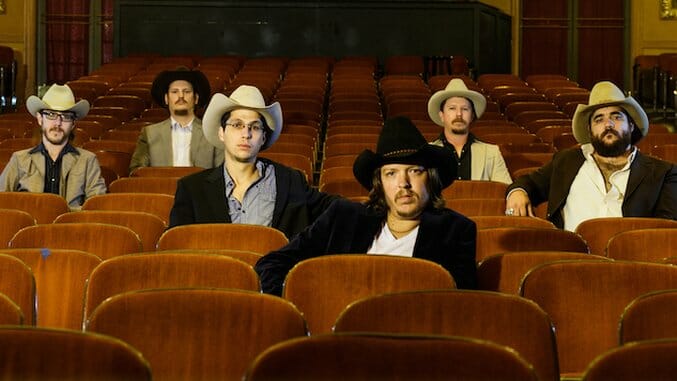 They say the apple doesn't fall far from the tree. That's all too true for frontman Mike Harmeier of Mike and the Moonpies, who sings about the ways he takes after the paternal figures in his life on "Mockingbird," the title track from their forthcoming album.
"It's about the influence of my father and grandfather on the man I am today," Hermeier says. "The older I get, the more I realize how much I emulate them, whether it's the clothes I wear, the way I talk, or the music that surrounded me in my formative years."
"Mockingbird" carries heavy influences of old western music, stirring up sounds influenced by everything from George Strait and Randy Travis to The Allman Brothers. "Mockingbird" is the kind of song you want to hear played live in a dirty bar—one that makes you grab another Shiner or a whiskey and head for the floor.
Mockingbird will is set for release on Friday, Oct. 2, but if you'd like to get into one of Mike and the Moonpies' notoriously rowdy live sets, you can check them out on their extensive fall tour listed below.
Mike and the Moonpies Fall Tour Dates
October
1 – Fort Worth, TX @ Billy Bob's Texas
2 – Roswell, NM @ Pecos Flavors Winery
3 – Las Cruces, NM @ Southern NM State Fair
4 – Tucson, AZ @ The Rialto Theatre
5 – Tempe, AZ @ The Marquee
6 – Flagstaff, AZ @ The Museum Club
7 – Los Angeles, CA @ El Rey Theatre
8 – Solana Beach, CA @ Belly Up Tavern
9 – Fresno, CA @ Stummer's
10 – San Luis Obispo, CA @ SLO Brewing Company
11 – San Francisco, CA @ Slim's
15 – Austin, TX @ The White Horse
16 – Tulsa, OK @ Mercury Lounge
17 – Oklahoma City, OK @ Wormy Dog Saloon
18 – Austin, TX @ Waterloo Records
23 – Dallas, TX @ The Rustic
24 – Coupland, TX @ Coupland Dancehall
31 – Austin, TX @ Continental Club
November
7 – Denton, TX @ Dan's Silver Leaf
13 – New Braunfels, TX @ Riley's Tavern
18 – St Louis, MO @ Off Broadway
19 – Springfield, IL @ Boondocks
20 – Columbia, MO @ The Blue Note
21 – Decatur, TX @ Bono's Saloon
27 – Austin, TX @ Continental Club
December
3 – Snyder, TX @ The Horny Toad
4 – Midland, TX @ The Lone Star Bar
11 – Little Rock, AR @ White Water Tavern
12 – Dallas, TX @ The Rustic
19 – Fort Worth, TX @ Magnolia Motor Lounge
26 – Austin, TX @ Continental Club