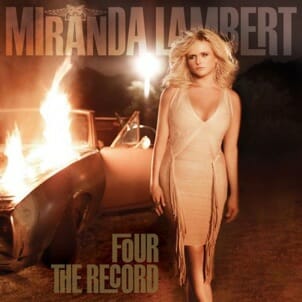 Miranda Lambert's a former Nashville Star contestant whose own Second Amendment-waving spin on "Janie's Got a Gun" (along with a steel-perfect parent album) was so undeniable it made one year's Pitchfork list. This is to say, she was so unexpectedly cool that people forgot how Nashville popsmiths work and that they only get cornier, and the underdog finally scored a Grammy-certified hit with the ultra-earnest "The House That Built Me," whose parent album was strong, overlong and occasionally dipped into clichés unbecoming of her wit. But because Lambert remains undeniable, her corny side and her musical perfectionism meet up for an odd sort of comeback here.
Four the Record is both the total sapfest promised by "House" and the craftier musical proposition her 2007 magnum opus Crazy Ex-Girlfriend promised. Most curious are the lyrical failings—the half-assed, Fountains of Wayne-style metaphor of the single "Baggage Claim" for instance. Lambert's already made one of 2011's best albums, the half-hour victory lap Hell on Heels with her brazen Pistol Annies, and what pushed it to the top were observations like "I'm a third-generation bartender" and extended metaphors like "Trailer for Rent" ("Comes with some holes and dents/ Where I got tired of his shit/ Call If you're interested").
I'm glad she contributed those all to one place and allowed Hell on Heels to be near-flawless, because the more assertively produced Four the Record still is a hell of an Amnesiac. With opening waltz "All Kinds of Kinds," our hostess digs seedier than Brad Paisley or Garth Brooks ever did on an all-acceptance song that brings cross-dressing to the table, and "Look at Miss Ohio"'s "I wanna do right/ But not right now," could be her credo.
Musically, the first five songs are perfection, and surprisingly rock-like, with "Fine Tune" and "Fastest Girl in Town" and "Mama's Broken Heart" twisting odd chords and Stones-fed melodies around her finger like Liz Phair's whitechocolatespaceegg. "Safe" unlooses the tentative melody from her last album's similarly posited power-ballad "Dead Flowers." "Baggage Claim"'s blues-funk sheepishly helps break up a troublesome middle where the slow "Dear Diamond" eventually reveals itself to be pretty good, and the slooooow "Same Old You" and "Over You" do not. But the indelible choruses of the final three songs, "Better in the Long Run," "Nobody's Fool" and "Oklahoma Sky" switch corn for craft in the nick of time. There's no obvious hit single here unless "Safe" makes a late-grab radio cookie. So assume this raw talent's getting more complex even as she turns hopelessly professional. What more could you ask of a Second Amendment devotee?