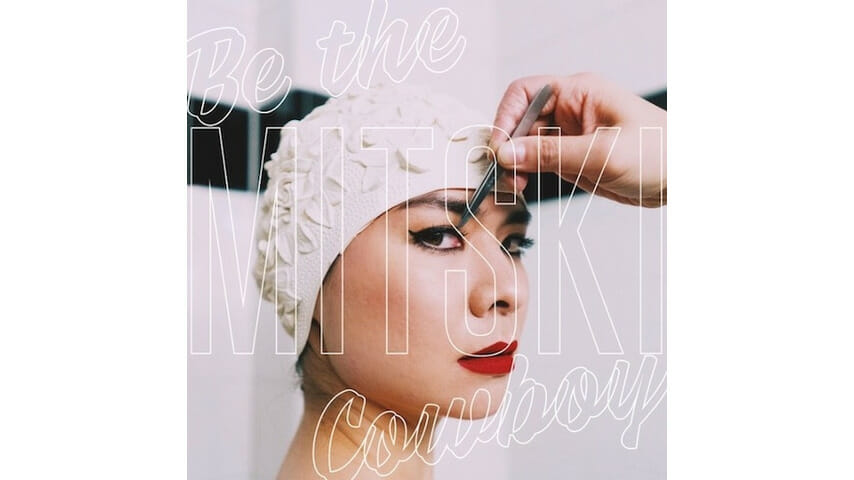 There are a lot of unhappy people in the songs on Mitski's new album. Some of them are Mitski herself, but not all. Belying the usual assumption that any woman who writes first-person lyrics is singing about herself, the 27-year-old singer-songwriter has said that many of the songs on Be the Cowboy are experiments in writing fiction. Let's call it a successful experiment.
She imagined her fictional character as "a very controlled, icy, repressed woman who is starting to unravel." The songs here aren't as straightforward as that, however: Mitski is a master of insinuation and inference. So when she sighs heavily at the start of "Me and My Husband," and then sings on the chorus, "We are doing better / It's always been just him and me / Together," you can practically see the narrator's tight, forced smile as she clings to a self-identity that is fully invested in a mate who has lost interest.
It's brutally subtle and surgically precise, a talent she demonstrates again and again. The woman on "Lonesome Love" sets out meet up with an ex to "win" their breakup, and finds herself the next morning "in a taxi / I'm so very paying for," eight words that imply an entire story that Mitski never explicitly spells out. By contrast, "Remember My Name" is the less opaque lament of a performer who doesn't quite know what she needs to be happy, or at least satisfied, as scuzzy guitars scrape like an irritant over a stuttering beat. "Nobody" comes from personal experience. Mitski wrote the song after she was overcome by loneliness during a holiday season she spent by herself in Malaysia, though a solid dance groove kicks in after a minute to mitigate her self-pity.
The disco rhythm adds to a musical eclecticism on Be the Cowboy that is more evident than on its predecessor, 2016's Puberty 2. "Why Didn't You Stop Me?" rides a relentless beat that cycles through a tough guitar riff on the way to a blaring synthesizer break, while ghostly, atmospheric keyboards on opener "Geyser" build into cascade of guitars, synths and lyrics that flow in a torrent. There's no chorus to break the tension, creating a sense of impassioned need that feels claustrophobic. She plays with meter on "Washing Machine Heart," where verse and refrain bleed into each other and the rhythm of her vocals doesn't quite match the beat of the song. It is at once disorienting and mesmerizing, an effect enhanced by a serene tone of voice at odds with the tumult of her lyrics.
Sometimes the unhappy people on Be the Cowboy seem to revel in their own discomfort: the narrator on "Pink in the Night" pines ecstatically for another chance to kiss someone the right way, and the blustery shuffle "Blue Light" finds a protagonist burning for a human connection through lyrics that are elliptical enough to seem like a fragment. Really, though, reveling in discomfort is something Mitski has always done well: she examines and parses it with a rigor that is somehow clinical and poetic. Whether she's singing about herself or creating stand-ins that feel just like real people, Be the Cowboy shows why she is fast making herself into one of the most interesting songwriters of her generation.
Listen to Mitski's 2015 Daytrotter session below: