10 New Albums to Stream Today
Featuring Jay Som, Taylor Swift, Ceremony, Sheer Mag and more.
Photos by Jason Merritt/Getty, Lindsey Byrnes, Rick Rodney
Music
Lists
New Albums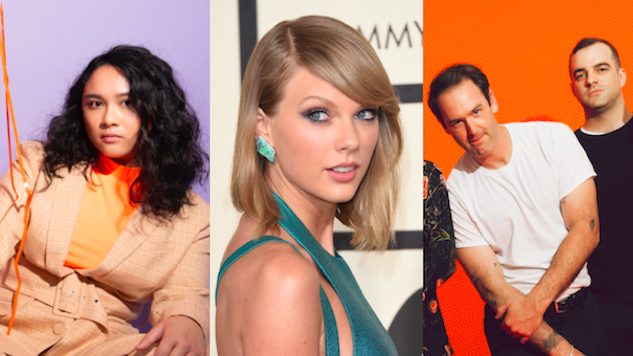 Today (Aug. 23) is a great day to be a music fan. After weeks of much-hyped singles, Taylor Swift finally unleashed her new album Lover, which features contributions from Jack Antonoff, the Dixie Chicks, St. Vincent, Brendon Urie and more. We also received Jay Som's follow-up to 2017's Everybody Works, which Paste christened as the best album of that year. Plus we got two great records from Philadelphia's thriving rock scene—Sheer Mag's A Distant Call and Queen Of Jeans' If you're not afraid, I'm not afraid. If that wasn't exciting enough, we got a weird new album from down under—Tropical Fuck Storm's Braindrops—and a new LP from "the internet's first boy band," Brockhampton. Scroll down to hear 10 essential new albums out today.
1. Brockhampton: Ginger
Ginger is Brockhampton's follow-up to 2018's Iridescence, the group's first Billboard 200 number one record and first studio effort following the departure of member Ameer Vann due to sexual misconduct allegations. Key track "I Been Born Again" leads with verses from core members Kevin Abstract, Dom McLennon, Joba, Merlyn Wood and Matt Champion, and uncoils with a gritty, sedated backbeat that has become characteristic of the group's distinct sound. Abstract told GQ in June that the group wanted to create a "feel good" summer album, "not too sad and like, 'Oh, our life sucks,' just more like, 'Just enjoy what's in front of you.'" —Savannah Sicurella
2. Ceremony: In The Spirit World Now
Legendary California punks Ceremony released their sixth album, In the Spirit World Now. It's the band's first since their excellent 2015 offering, The L-Shaped Man. The album's title track, "In the Spirit World Now," adds newfound gloss to the band's sonic palette. Spritely neon synths soar above a seedy bass groove, letting rhythmic guitars and game drums propel the track forward at a crunchy clip along a neo-noir highway. Frontman Ross Farrar's vocals uncannily glide over the track, witchy but cyberpunk, with sensual non-sequiturs like "Desire, oh it'll never stop" peppered throughout. —Harry Todd
3. Ghost Orchard: Bunny
18-year-old Sam Hall has been making music as Ghost Orchard for several years, most recently collected in 2016's lo-fi, hazy Bliss. Months after that album came out, two seismic shifts altered Ghost Orchard's sound: He started dating the partner that would inspire Bunny, and he made the jump from analog recording to digital, moving his sound from murky, acoustic songs to hip-hop inflected, stream-of-consciousness confessionals that'll have you swooning in the lazy summer sunlight. —Harry Todd
4. Jay Som: Anak Ko
It's been two years since Melina Duterte, 25, released her universally acclaimed studio debut, and much has changed, including her home base (then the Bay Area, now Los Angeles) and artistic process. As she did with Everybody Works, Duterte recorded, produced, engineered and mixed her new album Anak Ko herself at home, though she adopted a new approach to its instrumentation: Vagabon's Laetitia Tamko, Chastity Belt's Annie Truscott, her Nothing's Changed collaborator Justus Proffit, Boy Scouts' Taylor Vick and more all contributed. —Scott Russell
5. Modern Nature: How to Live
On their debut album, How To Live, Modern Nature's Jack Cooper and Will Young (Beak>) test the boundaries of physical landscapes and artistic genres. With a thematic interest in urban and rural settings and a musical interest in everything from krautrock and dance to psych-folk and jazz, Modern Nature bridge the gap between seemingly unrelated concepts. Their sound was also bolstered by cellist Rupert Gillett, drummer Aaron Neveu (Woods) and saxophonist Jeff Tobias (Sunwatchers). —Lizzie Manno
6. Queen of Jeans: If you're not afraid, I'm not afraid
Philadelphia rock trio Queen of Jeans visited the Paste Studio this week to perform songs from their new LP If you're not afraid, I'm not afraid. It's a flickering indie rock album with a heartfelt, catchy pop foundation and a few crumbs of strolling folk. "Bloomed" is marked by Miri Devora's ribbon-like vocal flutters and Mattie Glass' leisurely, low-toned guitar twinkles, "Only Obvious to You" has a similarly waltzy flow and "Get Lost" is instantaneous guitar pop at its finest. —Lizzie Manno
7. Sheer Mag: A Distant Call
Sheer Mag's sound is undeniably inspired by the hard rock and glam metal of yesteryear; the four-piece is continually compared to Thin Lizzy and Cheap Trick and any number of late '70s/early '80s rock gods. Sheer Mag actually breathe life into their retro sound, in large part because of vocalist Tina Halladay's neon-edged voice. But Sheer Mag have a specificity that clearly roots them in the present, makes them relevant and puts their message in context. —Clare Martin
8. Tanya Tucker: While I'm Livin'
Marking her first new music in 17 years, Tanya Tucker returned with a new single "The Wheels of Laredo," the lead track from her album While I'm Livin.' Mellow and based in acoustic guitar, "The Wheels of Laredo" sees Tucker's vocals shine through, showing nothing has changed during her musical break. While I'm Livin' is Tucker's follow-up to her 2002 album Tanya. Most of the new album was co-written by Brandi Carlile, and Phil and Tim Hanseroth, while Carlile and big-time country music producer Shooter Jennings tackled production. —Molly Schram
9. Taylor Swift: Lover
Our introduction to the Lover era has been thoroughly confusing and messy thus far. Will Lover follow its title track's path of honest, acoustic balladry, beginning a new Taylor Swift era of adventurous pop (she has Jack Antonoff on board, after all)? Or will it land closer to the bubblegum hell of "ME!" and "You Need To Calm Down"? Now it's up to the Swifties and hoards of cultural critics to decide. With appearances from Jack Antonoff, St. Vincent and the Dixie Chicks, it seems Lover may indeed be something special. —Ellen Johnson
10. Tropical Fuck Storm: Braindrops
Like their name suggests, Tropical Fuck Storm's music is deeply concerned with the environment. More than the lyrical themes that interrogate existential and ecological dread, though, it's the polyrhythmic instrumentation on the album that reflects the realities of climate change. Listening to Braindrops feels like watching a sped-up timeline of rising sea levels and melting glaciers set to long-lost field recordings of maximalist noise-rock from the Outback. You're listening to a world falling apart. —Harry Todd