Albums by Speedy Ortiz, Adult Mom, More Appear on NFT Auction Site Without Artists' Knowledge
Photos courtesy of Speedy Ortiz, Daniel Dorsa
Music
News
NFTs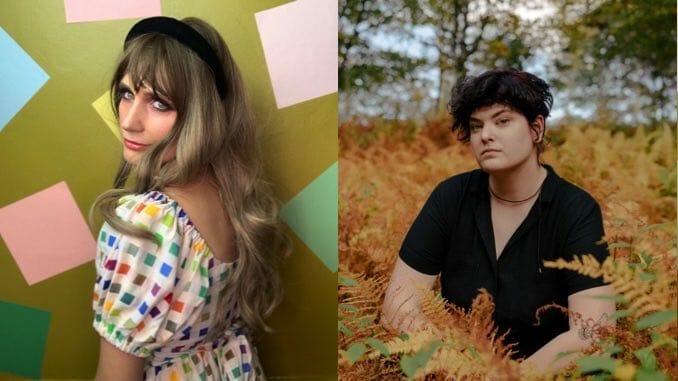 As if it weren't already difficult enough to be a musician in 2022, songwriters now apparently have to worry about their songs being sold from underneath them as NFTs. Artists including Speedy Ortiz, Adult Mom and Best Coast were dismayed to discover their songs on a website called HitPiece on Tuesday, taking to Twitter to call attention to the situation. It's not just indie artists, either: The site is seemingly auctioning off NFTs consisting of music by everyone from Billie Eilish to Bob Dylan.
"Wow just found out a website minted NFTs for a bunch of songs by bands I play in without our knowledge or permission, very cool!" tweeted multi-instrumentalist Audrey Zee Whitesides (Speedy Ortiz, Mal Blum). "If you're a musician who's released stuff on a major streaming service it seems like this might also have happened to you?"
Stevie Knipe of Adult Mom shared Whitesides' tweet, adding a screenshot of multiple Adult Mom songs up for auction on HitPiece, and asking, "Uhhh???? What the fuck is this?"
"Soooooo how do we all issue takedowns from the random NFT website that we all seem to have just now discovered is illegally selling our music," tweeted Speedy Ortiz's Sadie Dupuis, adding, "I already asked our label who's asking its lawyer but in case one of you has ideas."
Home Is Where, Backxwash, dltzk, Heart Attack Man and For Your Health are among the other artists who have called the platform out on Twitter, with Backxwash tweeting, "I don't do NFTs if a streaming site has NFTs of my music don't buy from it."
Responding to one angry musician's callout, the HitPiece Twitter account responded, "Feel free to send us a DM. Your music isn't on our site, nor do we stream music." The artist in question, Left at London, has 33 NFTs listed on the site as of this writing.
"HitPiece lets fans collect NFTs of your favorite songs," an FAQ section on the HitPiece home page explains. "Each HitPiece NFT is a One of One NFT for each unique song recording. Members build their Hitlist of their favorite songs, get on leaderboards, and receive in real life value such as access and experiences with Artists."
Paste has reached out to HitPiece for more information and will update this post with any that we receive.
Update, Feb. 2: Not long after this post went live Tuesday, the HitPiece website went down—it now simply reads, "We Started The Conversation And We're Listening." Meanwhile, HitPiece tweeted a statement that reads: "Clearly we have struck a nerve and are very eager to create the ideal experience for music fans. To be clear, artists get paid when digital goods are sold on HitPiece. Like all beta products, we are continuing to listen to all user feedback and are committed to evolving the product to fit the needs of the artists, labels, and fans alike."