Listen to David Byrne Join Paul Simon for Two Graceland Favorites in 2008
On April 10, 2008, Byrne performed in Brooklyn as part of a tribute to Simon called "Love in Hard Times."
Photo: Getty Images
Music
Features
Paul Simon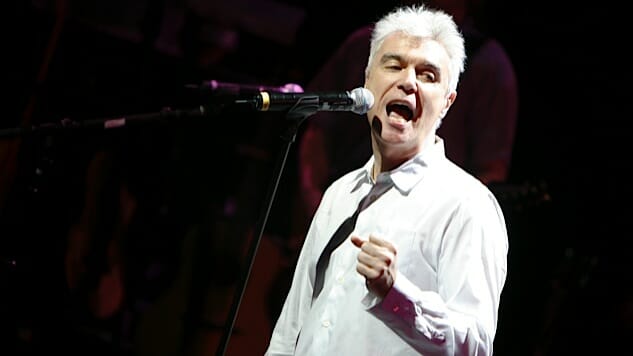 Did you know that Paste owns the world's largest collection of live music recordings? It's true! And what's even crazier, it's all free—hundreds of thousands of exclusive songs, concerts and videos that you can listen to and watch right here at Paste.com, from Lightnin' Hopkins to Cream to Eminem to Prince. Every day, we'll dig through the archive for the coolest recording we have from that date in history. Search and enjoy!
Get Free Access to Vault with the Paste Music & Daytrotter Mobile App
Ten years ago, Queens native Paul Simon performed a monthlong, multifaceted concert series at New York's Brooklyn Academy of Music called Love in Hard Times: The Music of Paul Simon. The series began with Songs from the Capeman, in which Simon performed his original work for the Tony-nominated score of the 1998 musical The Capeman, backed by Broadway arranger and conductor Oscar Hernández, some of the production's original cast members, and a band featuring New York Dolls guitarist Steve Conte. The series ended with American Tunes, a showcase of Simon's signature attention to American pioneerism, acknowledging the "railway stations, urban rhythms, and immigrant dreams" that pepper his lyrics. American Tunes featured appearances by Josh Groban, Olu Dara, Grizzly Bear, Gillian Welch and The Roches.
From April 9-13, Simon performed songs from his two midcareer pinnacles, Graceland and The Rhythm of the Saints in a showcase titled Under African Skies at BAM's Gilman Opera House. Joining Simon were Kaïssa, Ladysmith Black Mambazo, Vusi Mahlasela, Milton Nascimento and Luciana Souza and, notably, David Byrne. For years there wasn't much overlap to be found in the glitchy new-wave of Talking Heads and Simon's gentle folk, but by the end of the '80s, both were recognized for the innovative use of African and Latin scales and rhythms in their songs. On April 10, 2008, Simon and Byrne joined forces during this African- and Brazilian-flavored set on Simon's "I Know What I Know" and "You Can Call Me Al." Listen to both of these recordings from this date 10 years ago: