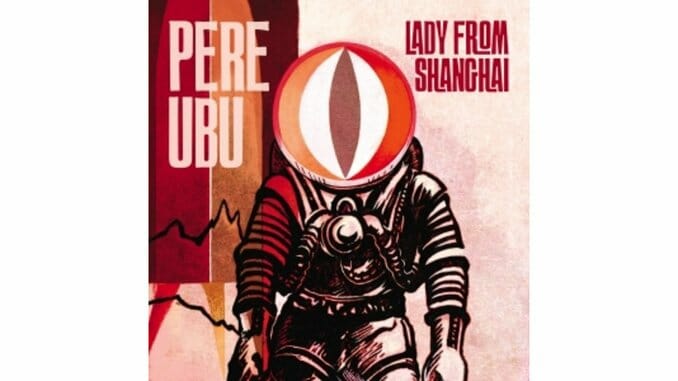 When Pere Ubu released The Modern Dance in 1978, they were lightyears ahead of their time. The band didn't sound of Cleveland, let alone of this Earth. Listen to "Sentimental Journey" now, then imagine what most Americans had on their turntables at the time—funky white dudes wearing sequined jumpsuits, or rock stars who lived for arenas, tight pants and AM radio. Even the Talking Heads and Sex Pistols were tame in comparison.
The Modern Dance sounds creepy and apocalyptic even today. And while Pere Ubu was mostly forgotten by the '80s and into the '90s, they never really went away. Well, vocalist-instrumentalist David Thomas never went away—and now pushing 60, Thomas has assembled yet another version of Pere Ubu for his molecular avant-rock experiment.
Lady From Shanghai isn't as mind-bending as the band's late-'70s work, but it still gives your gray matter a good kneading. Before even getting into the music, it should be pointed out that part of what makes the end product so good is the source—that being Thomas, who still genuinely toes the weirdo line (he also plans to release an accompanying book on the making of the record entitled Chinese Whispers). Authenticity speaks volumes.
Even at its unruliest, Lady From Shanghai is gripping. Opener "Thanks" sputters along with industrial-lite noise with Thomas singing "You can go to hell" to the tune of Anita Ward's "Ring My Bell," while "Feuksley Ma'am, The Hearing" is drizzled with robotic beats and a sample of the rickety 1876 phonograph recording of Thomas Edison reciting "Mary Had a Little Lamb." Repetition plays a key role in many of these songs, most notably on "Mandy" and "414 Seconds." Even without vocals they'd be disturbing, but Thomas' warbled lyrics hint at their own harrowing narratives.
As he's done for years, Thomas incorporates an even mix of out-there sounds and straight rock instrumentation that creeps and lurches throughout. Lady From Shanghai also shows that—35 years on—Pere Ubu still reside in their own dimension. Just replace "sequined jumpsuits" with "skinny jeans" and you get the picture.