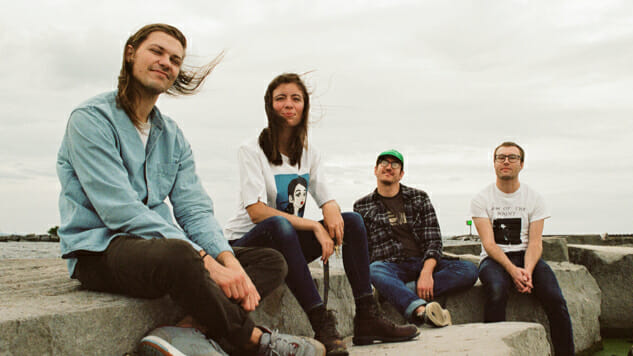 Daily Dose is your daily source for the song you absolutely, positively need to hear every day. Curated by the Paste Music Team.
Chicago indie rockers Ratboys, currently enjoying a Bernie bump, have shared the latest single from their forthcoming album Printer's Devil, coming Feb. 28 via Topshelf Records. "If you were going to show a stranger any one song from [the album] in an attempt to get them into the band, 'Anj' would likely be the best choice," a press release contends—that's not the only way in which "Anj" stands out from Ratboys' new set of songs.
"'Anj' is the first song we wrote for the record," singer Julia Steiner (she/her) explains. "It tells the story of my childhood babysitter, a woman named Angie (Anj for short) who watched my siblings and I while my parents worked full time. The verses recall little moments when she held me and comforted me when I was a tiny baby and then eventually as I grew into a small child."
"As time has passed and I've gotten older, I've kept in touch with Anj, and I've noticed our relationship changing," Steiner continues. "One time when we got together recently, she confided in me about some trauma she had experienced. It was a fundamental role reversal—she spoke to me not just as a fellow adult, but really she leaned on me for support and comfort in that moment."
"I did my best to listen and be there for her, to return the gesture of reassurance and love. And I think I needed to write this song to honor that experience," she concludes. "To say out loud for once and for all that I'm—that we're—not alone."
Ratboys' core duo, Steiner and her co-songwriter, guitarist Dave Sagan (he/him), wrote the bulk of Printer's Devil in Steiner's childhood home in Louisville, Ky.—with that in mind, it's easy to see how ideas like belonging, time's passage, and the comfort that compassion provides made their way into the music. "Anj" renders those ideas in heartfelt, effervescent fashion, leavening the explosive sweetness of pop-punk with dynamic emotion, stopping and starting like a breaking heart. "You were never broken up / Or less than whole, you're powerful," sings Steiner, "But, I'm not the one to tell you this / I know, you've told yourself."
"Anj" is the third single from Printer's Devil, following album opener and lead single "Alien With A Sleep Mask On," and second single "I Go Out At Night." The night of Printer's Devil's Feb. 28 release, Ratboys—Steiner and Sagan, plus drummer Marcus Nuccio and bassist Sean Neumann—will kick off their upcoming headlining tour with a hometown show at Chicago's Lincoln Hall. Tickets are on sale now.
Listen to "Anj" and Ratboys' 2015 Daytrotter session below, and find the band's upcoming tour dates further down.