Happy Pride! Here's St. Vincent Partying at a Gay Leather Club in Her "Fast Slow Disco" Video
Image via Loma Vista Recordings/YouTube
Music
News
St. Vincent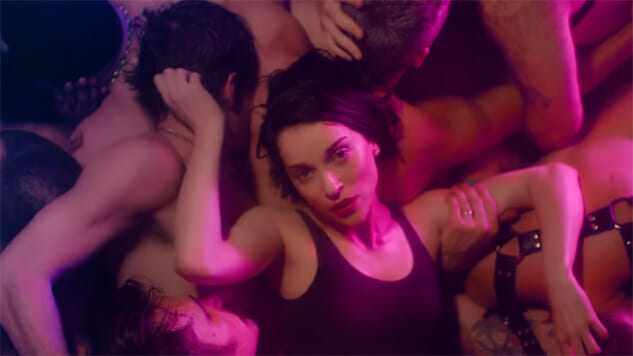 Some may say gay icons are born, not made, but St. Vincent just launched herself into the Judy Garland stratosphere with her latest music video for "Fast Slow Disco." The video is a dreamy, pink-and-blue-drenched short that perfectly encapsulates its thrumming, contemplative song. Oh, and it's set in a gay leather club and features a sweaty Annie Clark (aka St. Vincent) amid a writhing mass of half-naked gay men.
It's only fitting that Clark, who openly dates women, would release such a video during Pride Month. The "Fast Slow Disco" video embraces gay sexuality, featuring a warmly lit, romantic denouement. By its end, Clark's club-goers are slow dancing, wrapped in each other's arms in various shows of sensual connection. It's refreshing to see gay sexuality depicted so frankly, and if this is Annie's ultimate ploy to become a gay icon—well, we think she's earned the title. "Happy Pride. It was sweet of these boys to let me crash their party," Clark tweeted Thursday.
"Fast Slow Disco" follows St. Vincent's MASSEDUCTION and is actually a sped-up version of the album's original "Slow Disco." Check out the video below, and good luck getting this sad bop to leave your head afterward. We've also got a 2009 St. Vincent set from the Paste archives for you further down.