Stuck Perfect Their Post-Punk Sneer on Freak Frequency
The Chicago band's second full-length delivers on the promise of their 2021 EP Content That Makes You Feel Good
Music
Reviews
Stuck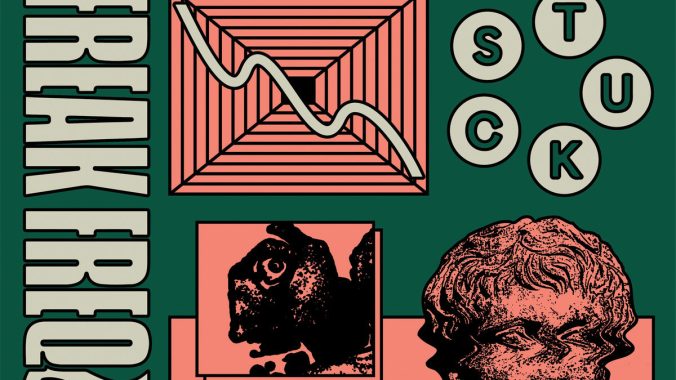 Approximately five seconds into its new album Freak Frequency, the Chicago-based band Stuck map out their stylistic territory and begin filling it with sounds on "The Punisher." There's the dry thwack of the drums, which keep a steady rhythm even as they contribute to the jittery ruckus unfolding around them. Two electric guitars lock into a latticework of prickly tones, bobbing back and forth like choreographed sewing needles. The bass line is sturdy and unassuming, and, 75 seconds in, a skronky saxophone arrives to lend the song a distinctively queasy feel.
Yes, this is post-punk, the kind fronted by a guy who sings in shouts, yelps and a brooding croon, often about the daily agitations of modern life under the crushing weight of capitalism and the thumb of technology. "You scream in endless fever dreams," he intones later in "The Punisher," not long before the track spins off into controlled chaos. "White-knuckle, you'll cling to almost anything."
In this case, that guy is Greg Obis, who formed Stuck in 2018 after the dissolution of his previous projects, Yeesh and Clearance. After an embryonic debut album released right at the beginning of the COVID-19 pandemic, the band's profile rose significantly thanks to its 2021 EP Content That Makes You Feel Good, which established them as promising post-punkers with an irrepressible ambitious streak.
On Freak Frequency, Obis and his mates—bassist David Algrim, drummer Tim Green and guitarist Ezra Saulnier—deliver on that promise by upping the production and turning their knotty tunes into strapping, sharply cornered bangers. Sometimes, they come out sounding like a more muscular Devo, notably on "Time Out," a wiry rant against social media and screen time. Other times, they sound like Chicago's answer to Detroit's endearing noise-rock kings, Protomartyr. On "Planet Money," for example, Stuck lurch and roar like a buzzsaw as Obis—disgust dripping from his words—barks:
They couldn't care less
If there was a billion deaths
To do anything to help
Would undermine the system itself
Elsewhere, "Lose Your Cool" finds Stuck at their poppiest, using a catchy stuttering guitar lick to counteract Obis' lyrics about guilt, stress and anxiety, while the title track sets the album's main theme—America is crumbling and taking us all down with it—to a galloping disco-punk rhythm that will, at least, give us something to dance to as it happens. And two songs, "Plank III" and "Break the Arc," give the second half of Freak Frequency some needed variety by playing with pace, song structure and percussion. The latter, in particular, is a highlight because of its funky exuberance in the face unrelentingly bleak lyrics.
Another high mark is Freak Frequency's final track, "Do Not Reply," which starts off slow but seems to pick up momentum throughout its 3:20 run time, peaking at a point when Stuck is at its punkiest. "We didn't ask for much but now you're so defensive," guest vocalist Miranda Winters (of Melkbelly) sings as the album winds down. "You've got more than enough, but still you bare your teeth." Indeed, it's a tough world out there and the chips seem to be stacked against us, but at least we have Stuck on our side. Freak Frequency is proof that the band has both the chops and the conviction to fight back against the bullshit.
Ben Salmon is a committed night owl with an undying devotion to discovering new music. He lives in the great state of Oregon, where he hosts a killer radio show and obsesses about Kentucky basketball from afar. Ben has been writing about music for more than two decades, sometimes for websites you've heard of but more often for alt-weekly papers in cities across the country. Follow him on Twitter at @bcsalmon.