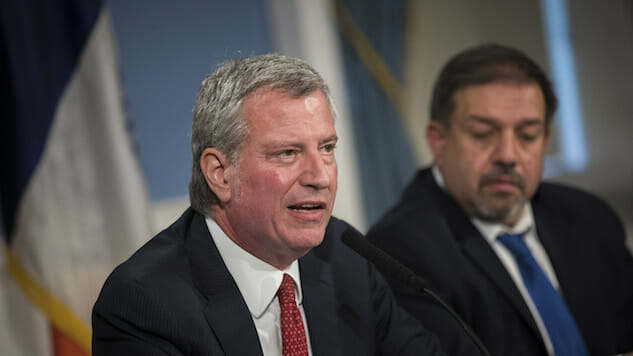 New York Mayor Bill de Blasio has announced legislation that would mandate two weeks of paid time off for workers in the city. The law would make New York the first U.S. city or state outside Puerto Rico to require employers to pay for time off, per The Washington Post.
The bill is modeled on de Blasio's 2014 paid-sick-leave law, and if approved by the City Council, it would guarantee paid time off for an additional 500,000 workers. It would require at least two weeks of paid time off for full-time workers and would allow part-time employees to accrue up to 10 days of paid leave over the year. The bill would represent a significant landmark for U.S. labor law, which has fallen behind more than 20 countries that already mandate paid time off.
The bill would require votes from a majority of the council's 51 seats to move forward. All but four city council seats are controlled by Democrats, who lent nearly unanimous support to de Blasio's paid-sick-leave bill five years ago. However, this new proposal is likely to face opposition from the city's business community over fears of major companies considering relocation as a result of the new mandates.
The proposal comes just one day after de Blasio announced his intention to guarantee health care to all New York City residents, including undocumented immigrants, signaling a bold progressive trajectory for the remainder of his second term.