Did Stormy Daniels' Lawyer Just Hint that the $1.6 Million Abortion Payment Made By an RNC Official Was Actually Trump's?
Photo by Jamie McCarthy/Getty
Politics
Features
Donald Trump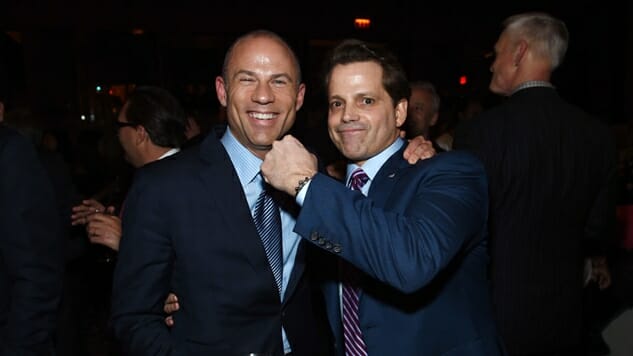 I hesitate to write this, as lawyers are literally paid to run their mouths, and journalists printing any words coming from a lawyer should always come with a caveat that they are obviously extremely biased, and their words should not be treated as gospel—but this whole situation is incredibly bizarre, and the very real FBI raid of Michael Cohen's entire life is giving legitimacy to all sorts of theories around his legal-ish (at best) activity. So let's hand the reins over to Stormy Daniels' lawyer, Michael Avenatti, for now. He's been talking a very big game about the dirt he has on Trump and Michael Cohen, tweeting this out with the hashtag, #pleasedenyit, on March 22nd.
If "a picture is worth a thousand words," how many words is this worth?????#60minutes#pleasedenyit#bastapic.twitter.com/eCkU0JBZaR

— Michael Avenatti (@MichaelAvenatti) March 23, 2018
On Thursday April 5th, Donald Trump denied it. Per NBC:
Trump said he had not been aware that Cohen had made the payment, nor did not know where the money came from. Asked why Cohen paid Daniels, Trump replied, "You'll have to ask Michael Cohen. Michael is my attorney. You'll have to ask Michael."
On Monday April 9th, Michael Cohen's Rockefeller Center office and Park Avenue hotel room were raided by the FBI. Some lawyers have speculated that Trump's public denial triggered the search warrant, and that seemed to be the inference in Avenatti's tweet. Which brings us to this Thursday's installment of Morning Joe. Raw Story caught this cryptic clarification from Stormy Daniels' lawyer about Michael Cohen's clients (emphasis mine).
"So, Mika, you are familiar with the fact that a week ago, Judge (Kimba) Wood ordered Michael Cohen's attorneys to disclose all of his clients for the last three years," Avenatti said, "and there were three clients listed — three clients listed. Do you recall which three?"
Brzezinski listed Trump, Fox News host Sean Hannity and Republican donor Elliott Broidy — but Avenatti said she was making the same mistake everyone else had.
"No, no, no," he said. "Mr. Trump, the Trump organization and Sean Hannity. Mr. Broidy was not disclosed in open court as one of Michael Cohen's clients."
Co-host Joe Scarborough asked the attorney what that meant.
"I think at some point we are going to find out, if in fact, the client in connection with the ($1.6 million) settlement was, in fact, Mr. Broidy. I'm going to leave it at that."
Four days after Michael Cohen's life got upended by the Feds, the New York Times reported on a $1.6 million payment made by Elliot Broidy, an RNC official and Trump donor, "to a former Playboy model who became pregnant during an affair. The deal was arranged in the final months of 2017 by President Trump's personal lawyer and fixer, Michael Cohen."
Avenatti seems to be hinting that this $1.6 million payment made through Trump's lawyer is connected to Trump, not Broidy. What's confusing is that the Wall Street Journal made it crystal clear that there was a relationship between Broidy and the former Playboy model, Shera Bechard. Per the WSJ:
Ms. Bechard alleged that Mr. Broidy, prior to the settlement, had been paying her for an exclusive sexual relationship that lasted one to two years, one of the people said.
However, the settlement around this million-dollar payment does not firm up the details around the relationship, as the Wall Street Journal explained:
As part of the contract, Ms. Bechard agreed not to pursue what she said were potential legal claims against Mr. Broidy, according to the person familiar with the matter.
In the contract, Mr. Broidy denied the allegations and agreed not to make any legal claims against Ms. Bechard in return for her signing the contract, the person said.
Ms. Bechard claimed that she became pregnant and that Mr. Broidy was the father, but the contract states that matters relating to the alleged pregnancy and paternity of the alleged child are excluded from the claims resolved in the agreement, the person familiar with the matter said. Ms. Bechard declined to provide proof that she was pregnant with Mr. Broidy's child, the contract says, according to the person familiar with the matter.
The contract said Ms. Bechard reserved the right to seek child support in the future, but she has told Mr. Broidy's camp that she had an abortion, the people familiar with the matter said.
So Shera Bechard and Stormy Daniels both had agreements with Michael Cohen, Trump's lawyer. Stormy Daniels received $130,000 just prior to the 2016 election from Michael Cohen. Shera Bechard received $1.6 million in the final months of 2017 over an agreement which included a claim that she became pregnant with a prominent RNC/Trump donor's child, had an abortion, but did not provide proof that she was pregnant with the RNC/Trump donor's child. Not to mention, former Playboy playmate Karen McDougal had a $150,000 deal with Trump ally AMI to provide her story about an affair with Trump that they never published. Nineteen women came forward after the Access Hollywood tape to accuse Trump of sexual misconduct. We now know of two payments made to women Trump had consensual affairs with, and Avenatti is hinting at a third. You can't help but ask, what else is out there? Trump is just that scummy, and Cohen is made of slime.
Michael Avenatti has already proved that he knows more than we do about Michael Cohen's legal problems, and now he's insinuating that this $1.6 million payment made through Trump's lawyer may not be on behalf of the man that all available reporting points toward. This could just be a lawyer running his mouth—so therefore I am serving as a useful idiot—and if that is the case, I sincerely apologize, but #pleasedenyit and the subsequent denial, then legal roto rooter shoved up Michael Cohen's colon has me shook. Donald Trump is a self-described sexual assaulter whose business admitted to committing multiple anti-money laundering violations at Trump Taj Mahal. Would it really be that crazy to envision Trump laundering multiple settlements through his fixer? That's why people like Trump have "fixers," right?
Jacob Weindling is a staff writer for Paste politics. Follow him on Twitter at @Jakeweindling.