Watch Donald Trump Creepily Describe Kissing a TV Host Without Her Consent in This 1992 Interview
Photos by Win McNamee/Getty, Mark Wilson/Getty
Politics
News
Donald Trump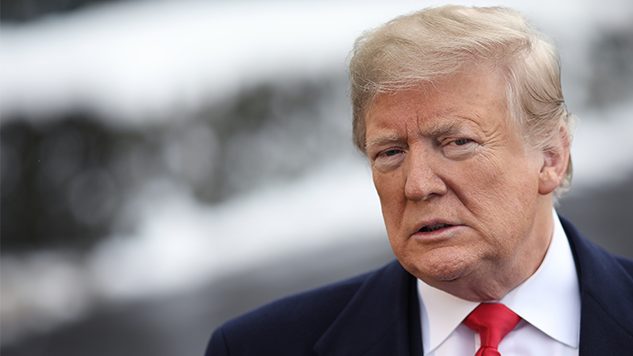 Adding more fuel to the gigantic "President Trump is a full-on creep" bonfire, a recently unearthed 1992 interview shown on The Rachel Maddow Show sees the then-business mogul go into detail about kissing a TV host without her consent and in front of her husband, per MSNBC.
Watch the 1992 clip aired on MSNBC's The Rachel Maddow Show below.
Here is some of the 1992 "A Closer Look" interview with Donald Trump in which he tells the story of abruptly kissing the show's married host on the mouth. The Mar-a-Lago video surfaced by MSNBC earlier today was shot in connection with this interview. pic.twitter.com/5YQgnWhXYy

— Maddow Blog (@MaddowBlog) July 18, 2019
The clip from the syndicated talk show A Closer Look starts off in typical Trump fashion, with him deflecting a question and then stating how the show's only having him there to boost ratings. It seems Trump's not-so-subtle ego boosts are nothing new—who would've thought?
Nonetheless, Faith Daniels, the interviewer, sarcastically thanks him for being so "generous," and then asks him to tell the rest of the story. It turns out, at a celebrity dinner in New York, the future president took it upon himself to kiss Daniels on the mouth in front of paparazzi. Daniels apparently replied to the kiss by saying, "That'll cost you. We're booking you on the show." It's hard to tell if that's true or just banter for the show, but either way it earns a big "yikes" from us.
But instead of letting the interview continue on, Trump decides he's going to describe the kiss some more, because why not make things more awkward and creepy than they already are?
"The kiss was so good, and it was so open and nice. She is a fabulous woman," Trump says.
Based on facial expressions alone, it seemed Daniels didn't like that comment. But to Trump, "her husband had his back turned," so everything's peachy keen, and they "had a good time."
Other parts of the interview feature more disgusting comments from Trump, as well. When asked by an audience member who he would choose to date, he replies first by saying Princess Diana (who was in fact married at the time) and then picks Daniels, who was also married. But once again, Trump ups the creepy factor by saying to Daniels, "I think my choice might be you. Look at the legs on her. Oh, boy." Gross.
Unfortunately, the comments made by Trump seem to be nothing new for his character. There's the infamous instance where Trump bragged about grabbing women's genitalia with former Access Hollywood host Billy Bush, and to date, at least 16 women have accused Trump of inappropriate behavior, including sexual misconduct and sexual assault.
The A Closer Look clip was brought to light by MSNBC after parts of it show Trump alongside Jeffrey Epstein, who is a registered sex offender and is currently awaiting trial on charges of sex trafficking.