Politician Forced Off Illinois Ticket for His Ties to DSA, Criticism of Israel
Photo by Scott Olson/Getty
Politics
News
DSA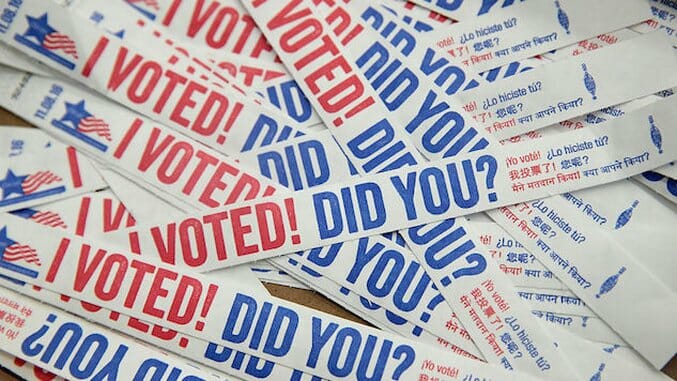 Carlos Ramirez-Rosa, a politician who only recently joined the ticket of Illinois gubernatorial candidate Daniel Biss, has now been forced off that same ticket.
Biss' campaign is built on being unapologetically leftist, but apparently supporting the BDS movement against Israel is a bridge too far. Ramirez-Rosa was criticized for his ties to the Democratic Socialists of America, an organization which supports the Boycott, Divestment and Sanctions movement (BDS), by Illinois congressman Brad Schneider in a Facebook post.
Now, just days later, The Intercept reports that (most likely in response to Schneider withdrawing support) Biss' campaign has dropped Ramirez-Rosa from the ticket.
Biss put out a lengthy statement soon after, explaining why he has chosen to find a new running mate:
Growing up with an Israeli mother, grandparents who survived the Holocaust, and great-grandparents who did not survive, issues related to the safety and security of the Jewish people are deeply personal to me.
I strongly support a two-state solution. I support Israel's right to exist, and I support Israel as the homeland of the Jewish people. I also care deeply about justice for Palestinians, and believe that a vision for the Middle East must include political and economic freedom for Palestinians. That's why I oppose the Boycott, Divestment, and Sanctions movement, or BDS, as I believe it moves us further away from a peaceful solution.
When I asked him in the interview process prior to his selection, Carlos said he too supported a two-state solution and opposed BDS. Since we've announced his selection, we have been asked about his position on BDS. After much discussion, it's become clear that Carlos' position has changed. While I respect his right to come to his own conclusions on the issue, it simply wasn't the understanding we shared when I asked him to join the ticket.
For his part, Ramirez-Rosa also put out a statement declaring his intention to continue advocating for the issues close to his heart:
While I was honored to be chosen as Senator Daniel Biss' gubernatorial running mate, it became clear over the past few days that while we share a total commitment to peace, security, and statehood for the Israeli and Palestinian people, and both oppose pursuing BDS at the state level, the difference of opinion we have on the role the BDS movement plays at the federal level would make it impossible to continue moving forward as a ticket.
I was asked to join the ticket to even more strongly advocate for the critical issues facing this state, such as Medicare for all, a $15 living wage today, affordable childcare, and free college tuition. While I am no longer part of the ticket, I have every confidence that Senator Biss and I, in our different roles, will continue to be strong advocates for these progressive issues.
I especially want to thank the members and organizational leaders of Reclaim Chicago, Our Revolution IL, and Democratic Socialists of America, and the thousands of activists who have shown their commitment to addressing these critical concerns for their confidence in me, and their continued work on these progressive issues. There is so much work to be done, and I am proud to stand by your side while we continue to build our progressive movement.