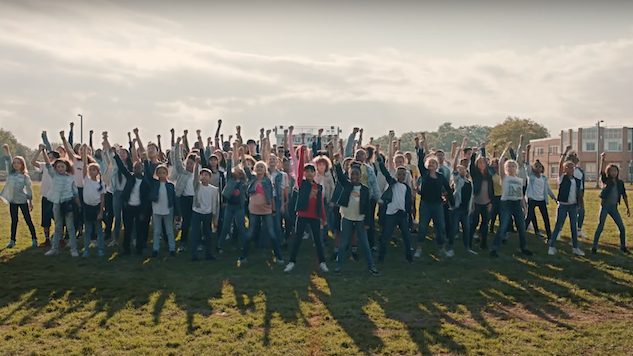 Just over two weeks before the upcoming midterm elections on Nov. 6, Everytown for Gun Safety has released a timely PSA on the crisis of gunfire in schools.
The video is backed by Sia's "I'm Still Here" and features young dancers from National Dance Institute. It opens with an elementary-aged student walking into school, grabbing a balloon from a get-out-the-vote table organized by fellow students and playing with the balloon until it pops—triggering every student in the school with the resulting gunshot-like sound.
Three principle dancers emerge, ranging in age from young-elementary to teenage, dancing to Sia's anthem. At first, the student's faces are fearful as the camera focuses in on an empty desk and later an empty theatre seat, representing lost students. However, as the dancing continues and other students join in, the fear turns to determination. Eventually moving to a football field, the students spell out the video's message (and title): "Enough."
Captions spell out the unsettling reality of gun violence around children: "An estimated three million American children experience gun violence every year." "Gun violence is now the second leading cause of death for American children." "Over 2,600 children and teens are shot and killed every year." "An average of 47 children and teens are shot every day."
Directing viewers to Everytown's website, the PSA ends by encouraging action in communities across the nation.
The PSA was choreographed by James Alsop and directed by Ezra Hurwitz. Check it out below.