Berkshire Bank Has Cut Ties With an Assault Weapons Manufacturer
Photo by Ethan Miller/Getty
Politics
News
Gun Control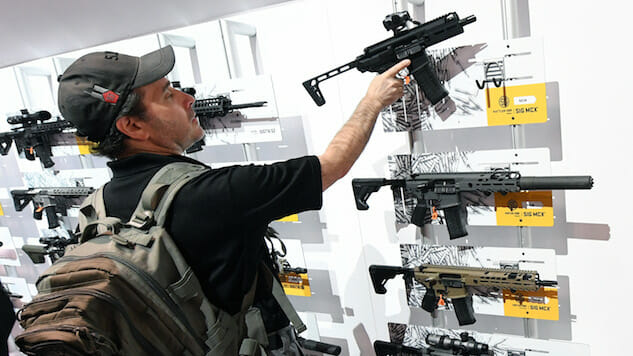 Berkshire Bank has announced that they will no longer fund Sig Sauer, an assault weapons manufacturer.
A Sig Sauer brand semi-automatic rifle was used in the Pulse nightclub shooting that left 49 people dead in Orlando two years ago.
Think Progress recently identified 17 financial institutions that are financing the assault weapons industry, including Berkshire Bank. The bank's senior vice president and marketing officer, Elizabeth Mach, told ThinkProgress last week "as of 18 months ago we are no longer part of this lending group and we have no further lending relationship with Sig Sauer."
The story was first reported by writer Eoin Higgins in a tweet:
No longer, though. Berkshire cut ties with Sig last week. The change was brought about by the activism of local north Berkshire and southern VT group Greylock Together. (3)

— Eoin Higgins (@EoinHiggins_) March 5, 2018
Bank of America was also named in this list and they have said that they are reevaluating its relationship. A Bank Of America spokesperson said last week that it is engaging "the limited number of clients we have that manufacture assault weapons for non-military use to understand what they can contribute to this shared responsibility."
Also named in the list of 17 banks: Capital One, JP Morgan Chase, Wells Fargo, Morgan Stanley Bank, TD Bank, U.S. Bank and more.
Dick's Sporting Goods and Walmart both announced last week their decision to limit their sales of firearms. Dick's announced it was immediately ending sales of "assault-style rifles" and high-capacity magazines in its stores, and it raised the required age to purchase a firearm to least 21. Walmart will also enforce a 21+ age restriction and said it wouldn't sell items resembling "assault-style rifles," including toys. The company discontinued the sale of high-powered rifles, including the AR-15, in 2015.
Other companies and industries that have cut ties with gun-related organizations include Delta, Hertz, Avis, Budget, LifeLock and MetLife. However, one of the biggest holdouts and one of the biggest beneficiaries of the gun industry is FedEx, who provides shipping services for 86 firearms manufacturers, dealers and the NRA.