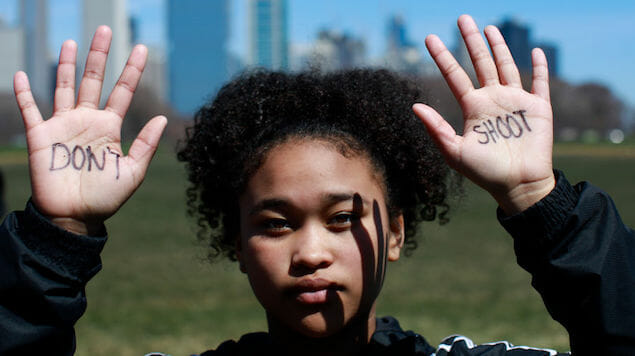 On Thursday, FEMA released a new study on gun violence in America. The report was conducted as part of the "Advance Thinking Program," which is an initiative intended to address domestic threats with policy. The team behind the study is made up of a staggering two people: David Reidman, a captain of Maryland's Fire and Rescue Service, and Desmond O'Neil, who has 24 years of law enforcement experience and is currently assigned to a New York ICE office.
Though government-funded, the two began the study of their own volition. Vice News reports that, because of NRA influence, there was no reliable or current data on school shootings until now. With that in mind, Reidman and O'Neil compiled information from 60 years worth of school shootings. For context, their study defines a school shooting as: "each and every instance a gun is brandished, is fired, or a bullet hits school property for any reason, regardless of the number of victims, time of day, or day of week." Within that framework, they were able to examine 1,317 incidents over 58 years, along with the resulting 713 deaths and 1,458 injuries.
Here are some of the takeaways.
As far as weapons go, the gun was unidentified in about half of the shootings. In cases where the gun was identified, the two most used weapons were a .22 caliber handgun and a .30 caliber small rifle. AK-47s were used in only six shootings, while the AR-15 was used in five. That goes to show that halting the accessibility of higher-powered guns alone might not do much. Though the researchers themselves are unable to comment on how their research might be used, it's an important data point for legislation.
The type of incident was fairly spread out. "Escalation of dispute" was the most common with 354, though "gang-related" and "accidental" followed with 164 and 149, respectively. "Accidental suicide" is next with 120 and "domestic violence" comes behind that, with myriad other categories in the lower occurrences.
Tying in with the "domestic violence" category, it's important to note the gender of the shooter. 1,126 of the shooters were male—only 57 were female. That's about a 20-to-1 ratio. That points to a grave, but unsurprising, issue in how our society raises its boys to deal with emotion.
Trump and his NRA-sponsored pals assured citizens that they would solve the gun crisis by addressing mental health, or banning bump stocks, or so many other band-aid solutions. Meanwhile, 2018 is at a 50-year high for school shootings.
Reidman and O'Neil's report is available via Google Sheets.