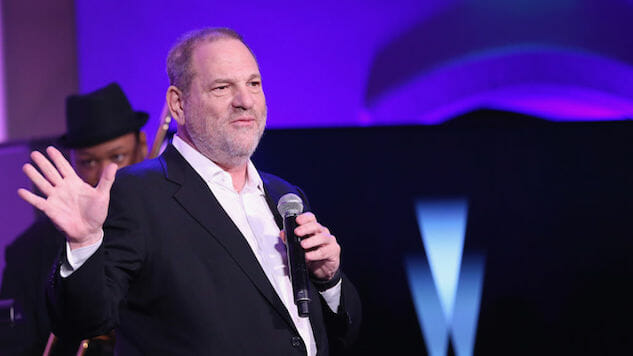 Much has been made of the sexual harassment allegations surrounding Harvey Weinstein in the past week. A New York Times investigation was the first to reveal a pattern of predatory behavior from Weinstein, citing sexual harassment complaints dating back decades. But up until now, the allegations have not included explicit sexual assault or rape.
A new The New Yorker exposé today changes that. Ronan Farrow has conducted his own 10-month investigation into Weinstein, and he has found multiple women who report instances of non-consensual sex, ranging from repeated attempts at coercion to forced oral and vaginal sex.
Farrow begins with Lucia Evans, once an aspiring actress, who says Weinstein appeared to be interested in a professional meeting. But when Evans arrived, she and Weinstein were alone. He pulled out his penis and forced her head to it, despite her saying "no" again and again.
Then, Asia Argento claims that Weinstein raped her in 1999. Afterwards, Weinstein sent her gifts, and Argento says they had consensual sexual relations because she felt "obliged" to him. She never made any formal allegations because she knew that juries would think this compromised her integrity as a witness, but she did make a film called Scarlet Diva that mirrored her experiences.
Emily Nestor, and actresses Mira Sorvino and Ambra Battilana Gutierrez all said they experienced sexual harassment at the hands of Weinstein. Nestor described it as "textbook" harassment, Sorvino said that Weinstein didn't know the meaning of the word "no" and Gutierrez tried to involve the police. The police caught a recording of Weinstein saying that groping a woman's breasts without consent was "normal" for him, but no criminal charges were pressed.
In many of the women's accounts, Weinstein's preferred maneuver tended to involve a hotel room and a bathrobe. He frequently would invite a woman to his room under a professional pretense, then disappear and reappear in a bathrobe, asking for a massage. Emma de Caunes' story is like that, as is actress Rosanna Arquette's. Arquette further states that Weinstein tried to pull her hand toward his genitals. Many of these actresses said that when they rejected him, their movie careers suffered. The man would go out of the way to hurt their careers if they said no to him.
On top of all this, female executives told Farrow that this was all fairly routine behavior for Weinstein. At least one executive said that Weinstein would hold meetings, then dismiss everyone but the aspiring actress, so they could be alone. There is an implication that there could be many more unknown victims from these types of meetings.
The executive says that Weinstein once whispered in her ear, "There are things I've done that nobody knows."