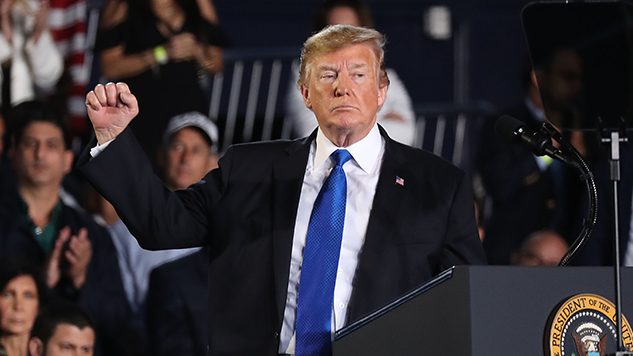 Support for impeaching Donald Trump has been steadily rising and has now reached an all-time high, according to a CNN poll. The poll's results were revealed early on Tuesday, and show that half of Americans say President Trump should be impeached and subsequently removed from office.
Meanwhile, a poll by Quinnipiac University published on Wednesday sees that a 55% majority of registered voters—a 4% increased from last week's poll—said they approved of the impeachment inquiry, while 43% said they disapproved. Currently, 48% of those polled are in support of the removal of Trump from office—a 2% increase from last week, and a staggering 11% increase from a poll shared on Sept. 25.
The Quinnipiac polling results are clearly dependent on party preference. 87% of Democrats are for impeachment and removal, compared to 50% of independents. Just 6% of Republicans are in support of Trump's removal; while the majority oppose both the impeachment inquiry and the removal of Trump from office, Quinnipiac polling analyst Mary Snow explains, "Roughly 7 in 10 Republicans say the president was pursuing the national interest in his dealings with Ukraine. The rest say he was pursuing his own personal interest or they don't know."
It seems that Americans are finally waking up to the reality of what who is sitting in the Oval Office.