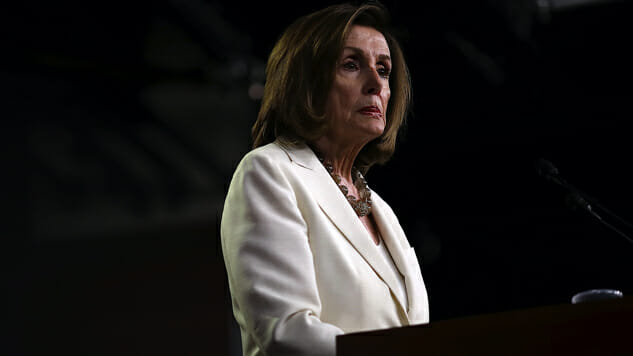 The words "impeachment inquiry" have been tossed around for over a month now, but that statement is now gaining speed and meaning in Congress. BuzzFeed News reports that a resolution was just passed on Thursday morning formalizing the impeachment inquiry into Donald Trump.
The resolution vote was announced earlier this week by House Speaker Nancy Pelosi. According to the New York Post, the resolution lays out the format for the impeachment inquiry, including proposals for how public hearings will unfold, how transcripts will be released, and who will be able to question witnesses who have been gathered by both Democratic and Republican House committees since Pelosi first launched the inquiry last month.
A judge ruled there was no legal requirement binding Pelosi to bring such a resolution to the floor, but Pelosi reasoned that doing so would present the process as fair and legitimate, and therefore resistant to cries of corruption by Trump and company.
"For weeks, the President, his Counsel in the White House, and his allies in Congress have made the baseless claim that the House of Representatives impeachment inquiry 'lacks the necessary authorization for a valid impeachment proceeding,'" Pelosi wrote in a letter to her caucus Monday. And then, in a line that could (and probably will) inspire an SNL skit, "They argue that, because the House has not taken a vote, they may simply pretend the impeachment inquiry does not exist."
Let's be honest: Trump will surely take to Twitter to claim victimhood anyway, or pretend like he is not actively being impeached, or a combination of both. [Ed.: Yup.] The resolution vote passed quickly, so calling a vote did not impede the process and could, in fact, help it. Pelosi also stated that the House is "taking this step to eliminate any doubt as to whether the Trump Administration may withhold documents, prevent witness testimony, disregard duly authorized subpoenas, or continue obstructing the House of Representatives."
The inquiry passed by a vote of 232-196. All Republicans sided with their party's president—just one non-Democrat, former Republican-turned-Independent Rep. Justin Amash, voted in support of impeachment. Four representatives did not vote on the resolution: Democratic Rep. Donald McEachin of Virginia, and Republican Reps. Jody Hice of Georgia, John Rose of Tennessee and William Timmons of South Carolina. (Hice's father recently died, so he could not attend the vote, "otherwise he would have been a resounding no," his office said). Two Democrats, Reps. Collin Peterson of Minnesota and Jeff Van Drew of New Jersey, voted against the resolution.
Amash, the Independent representative who voted for impeachment, had a reminder for his colleagues before the vote:
This president will be in power for only a short time, but excusing his misbehavior will forever tarnish your name. To my Republican colleagues: Step outside your media and social bubble. History will not look kindly on disingenuous, frivolous, and false defenses of this man.

— Justin Amash (@justinamash) October 31, 2019
Peterson, one of the two Democrats who voted against the resolution spoke to reporters about his reasoning, which didn't have much of a foundation in fact. He said that some of his constituents told him they did want to see impeachment go forward, but "you can never make everybody happy. Peterson doesn't see the vote as a betrayal of his party: "The real issue here is people should vote what is in their heart and what they think is right. That's what I've always done." The representative also said that he "prayed on it" and is "doing the best he knows how to do," whatever that means.
Next steps include Intelligence Committee chair Adam Schiff mediating public hearings, which should begin in the coming weeks. Two Trump administration officials, Lt. Col. Alexander Vindman, a National Security Council Staffer who was on Trump's call with Ukrainian President Volodymyr Zelensky, and Bill Taylor, the top U.S. diplomat to Ukraine, have said they are willing to testify publicly. After a lot of bureaucratic dealings happening behind closed doors, it's refreshing to see impeachment processes happen in the light.