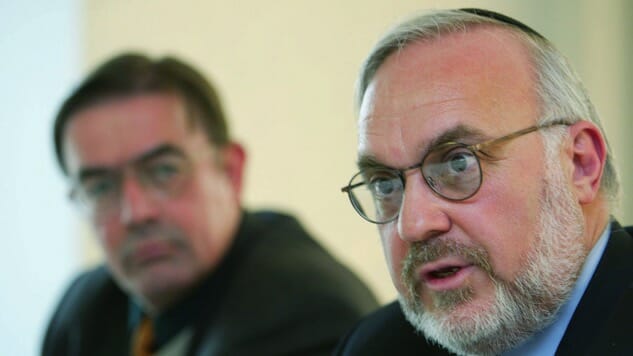 Trigger Warning: Hate speech, terrorism, violence.
The Simon Wiesenthal Center recently released a digital hate report card for social media networks. Assessing how they're helping to prevent digital terrorism and hate crimes, the center ranked social media networks and messaging apps…and the results were less than stellar.
Popular networks like Facebook, Twitter, and Instagram aren't doing enough to combat hate speech and terrorist networks, argues the Center. In their full report they cite examples of anti-Semitic hate speech, terrorist recruiting tactics, and instructional videos for mass violence on various networks.
Here's an example posted under the hashtag #OrlandoIsBurning on Twitter, followed the Pulse Nightclub murders in Orlando, justifying the killing of "civilians" by ISIS. As unsurprising as it may be, this is just one example of thousands of hate-tweets used for propaganda by the terrorist network.
This level of vitriol and hatred has only increased in recent years and during the 2016 election. While Twitter has been working on cracking down on users, the Center challenged Google/Youtube in particular to step up their game.
"Google/Youtube is rightfully under fierce criticism for placing digital ads from major international brands like AT&T and Johnson & Johnson next to extremist videos celebrating terrorist attacks that should never have been allowed on its platform in the first place," said Rabbi Abraham Cooper (pictured above) at a recent press conference in New York City.
What about the network drew such a low rating? Rabbi Cooper says, "Unfortunately Google/ Youtube earned a C- on the digital report card for allowing the proliferation of 'how-to' videos that instruct people on how to build and deploy explosives from materials found in the home." They've also failed to remove hate group postings, which contributed to their low score.
Encryption presents a problem for law enforcement, too. Other messaging apps like WhatsApp earned the lowest grades of all, with terrorists using it to hide their activities. Recent terrorist attacks, such as the Westminster London bomber, used the app for this purpose.
This raises the question: what's the balance between policing and free speech? While deplorable, there is no hate speech exception to the First Amendment. It is illegal, however, to make threats and incite crimes against anyone.
Social media networks are private entities. We can imagine what a government-run social network might look like (no, don't laugh!) but the reality is, it's up to the social networks themselves to decide how to police and protect their users. Whether or not they crack down on hate speech is up to them—even if it isn't technically illegal, they care more about user experience. And a report card like this one doesn't do much to give users faith that the networks will protect them.
When it comes to fighting terrorism, tech companies haven't been too keen on opening up their technology or platforms to authorities, either. After the San Bernardino shooting, federal officials demanded that Apple assist the FBI to unlock the attacker's iPhone, which Apple refused, stating that it "would set a dangerous precedent."
There's two sides to every piece of technology—using for good or for evil. And as the "bad guys" become more sophisticated in hiding their movements from authorities, social networks need to decide how to monitor potential terrorists and whether or not they'll work with the authorities to stop terrorism. It's no longer enough to let this continue—the question is, how will they balance protecting their users and protecting the world?