John Kelly, Perhaps Illegally, Approved the Military's Use of Lethal Force at the Border
Photo by Pool/Getty
Politics
News
John Kelly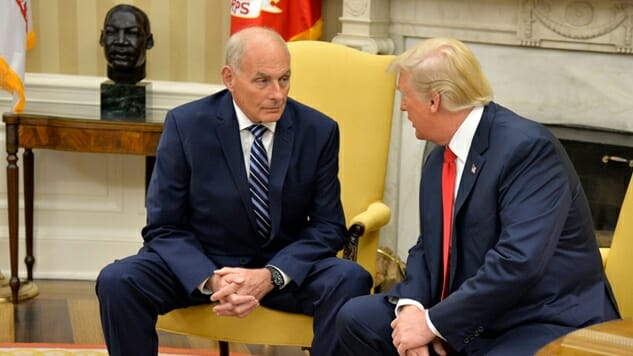 The next time that someone tells you that we will be saved from Trump's authoritarianism by military leaders who will always disobey illegal orders, point to White House Chief of Staff, and former United States Marine Corps General, John Kelly. Per The Military Times:
The White House late Tuesday signed a memo allowing troops stationed at the border to engage in some law enforcement roles and use lethal force, if necessary — a move that legal experts have cautioned may run afoul of the Posse Comitatus Act.
The new "cabinet order" was signed by White House Chief of Staff John Kelly, not President Donald Trump. It allows "Department of Defense military personnel" to "perform those military protective activities that the Secretary of Defense determines are reasonably necessary" to protect border agents, including "a show or use of force (including lethal force, where necessary), crowd control, temporary detention. and cursory search."
…
Some of those activities, including crowd control and detention, may run into potential conflict with the 1898 Posse Comitatus Act. If crossed, the erosion of the act's limitations could represent a fundamental shift in the way the U.S. military is used, legal experts said.
It's a serious question whether John Kelly even has the authority to sign an order like this. The White House Chief of Staff is not in the military chain of command. On the surface, this looks like an unlawful order illegally signed by a former general. The entire point behind the Possee Comitatus Act is to ensure that the military does not control or defeat American citizens on U.S. soil. Not only does this have harrowing legal consequences for anyone crossing the border (and I haven't even reached the moral indignity of authorizing lethal force on refugees), but if this longstanding law is defied, it brings into question what the president can do with the military inside of United States borders. This is a harrowing moment for the rule of law in America, which is increasingly under threat by a Republican Party who could care less about it.
Jacob Weindling is a staff writer for Paste politics. Follow him on Twitter at @Jakeweindling.