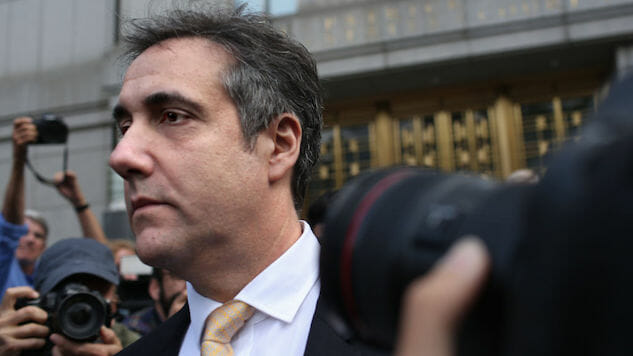 Michael Cohen, former Trump lawyer and advisor, pleaded guilty to lying to Congress on Thursday morning. During his congressional hearing, Cohen misled lawmakers in an effort to make it seem as though Trump's developments in Russia had come to an end. Specifically, Cohen went on record saying he wanted to hamper Robert Mueller's Russia investigation by hiding progress on Trump Tower Russia, per The Guardian.
Previously, Cohen stated that Trump Tower Russia's development came to an end in January of 2016, before Trump formally launched his presidential bid. Thursday morning, Cohen amended that statement, telling a federal court that work on the tower continued into June of that year. That's the same month that Trump launched his campaign and the notorious meeting in Trump Tower occurred, in which his officials met with Russians to discuss potentially damaging information on Hillary Clinton.
Trump, the antithesis of discretion, actually tweeted about the tower's progress back in 2013. He tagged entrepreneur and real estate mogul Aras Agalarov, who hosted him in Russia. Over a weekend, Trump met with Agalarov and his family and watched the Azerbaijani-Russian singer Emin perform. Emin, son of Agalarov, is a businessman himself and was actually integral in arranging the June 2016 meeting between Trump's officials and Russian intelligence, according to the Washington Post.
@AgalarovAras I had a great weekend with you and your family. You have done a FANTASTIC job. TRUMP TOWER-MOSCOW is next. EMIN was WOW!

— Donald J. Trump (@realDonaldTrump) November 11, 2013
Cohen said the lie was intended to "give the false impression that the Moscow project ended before the Iowa caucus." Making it appear that Trump's Russian ties were cut off would be important prior to the Republican Party's first nominating contest of that year.
According to court filings, Cohen was vehement in his support for Trump, here referred to as Individual 1. He's quoted saying he "agreed to travel to Russia in connection with the Moscow Project and took steps in contemplation of Individual 1's possible travel to Russia." Cohen proceeded: "I made these statements to be consistent with Individual 1's political messaging and to be loyal to Individual 1."
After Cohen stated his allocution, a prosecutor stood up & added that Cohen had also "minimized his contacts with the Russian government" to Congress, and that in fact Cohen had had a 20-minute conversation with a spokesman for the Kremlin. Cohen acknowledged that was correct.

— erica orden (@eorden) November 29, 2018
In August, Cohen pleaded guilty to violating election campaign finance laws. He said he was following the President's orders. He's not the only one: George Papadopoulos, a Trump campaign adviser, was arrested on Monday in connection to the Russia probe. Papadopoulos had already admitted to lying about Russian connections in 2016, but a letter recently obtained by The Atlantic may indicate more collusion than was previously thought.
Papadopoulos, Cohen and Paul Manafort, all campaign allies of Trump, have fallen on their swords this week and special counsel Robert Mueller's indictments draw nearer by the day. Per the BBC, Trump has responded by calling Cohen a "weak person and not a very smart person." The President says Cohen lied about Trump Tower Russia to reduce his sentence. As the story unfolds, though, the picture of Russian collusion becomes clearer and clearer.
A key line from President Trump's gaggle with reporters: "There was a good chance that I wouldn't have won, in which case I would have gotten back into the business, and why should I lose lots of opportunities?"

— Kaitlan Collins (@kaitlancollins) November 29, 2018