Mitt Romney Wants to Hear John Bolton's Testimony at Senate Impeachment Trial
Photo by Alex Wong/Getty
Politics
News
Mitt Romney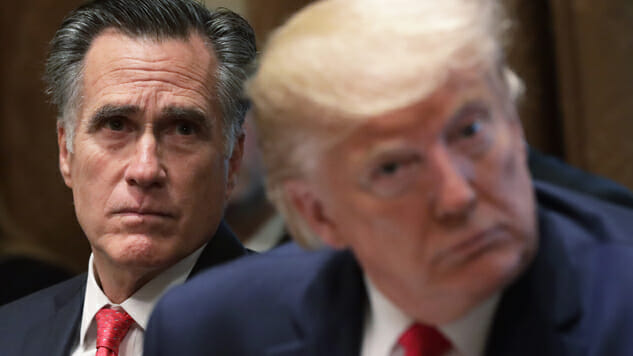 Republican senator and former presidential nominee Mitt Romney publicly announced that he would vote in favor of hearing John Bolton's testimony at the Senate Impeachment Trial for Donald Trump.
Bolton, the former national security advisor, announced last week that if he were to be subpoenaed, he would testify in the Senate Impeachment Trial. Bolton has not stated what his testimony would concern, but he was witness to several of the president's matters with Ukraine during his stint as advisor. Trump has already stated that he will use his "executive privilege" to block Bolton's testimony in an attempt to "protect presidential privilege," showcasing his fundamental misunderstanding of executive privilege. Former federal prosecutor Cynthia Alksne cleared it up on MSNBC, stating, "You can't use executive privilege to cover up a crime, and what we have here is extortion, and so executive privilege does not apply to the questions about the Ukraine extortion."
An issuing of a subpoena for Bolton's testimony would require 51 votes from the Senate. With 47 Democrats currently filling seats and Romney's pledged vote, that means three more Republicans need to turn to join the Democrats in their votes. Republican senators Susan Collins of Maine and John Cornyn hinted they may be willing to hear Bolton out, but no conclusive evidence has been shown to convince us of their stance. Speaker of the House Nancy Pelosi announced Tuesday afternoon that she will send the articles of impeachment forward to the Senate on Wednesday to enact the trial.
The House upheld its duty to #DefendOurDemocracy by passing two articles of impeachment against the President. Tomorrow, we will transmit those articles & name impeachment managers. The Senate must choose between the Constitution & a cover-up. https://t.co/tcPdHeMUGppic.twitter.com/ebqA3Z1oBi

— Nancy Pelosi (@SpeakerPelosi) January 14, 2020
You can view Romney's public statement on MSNBC's website here.