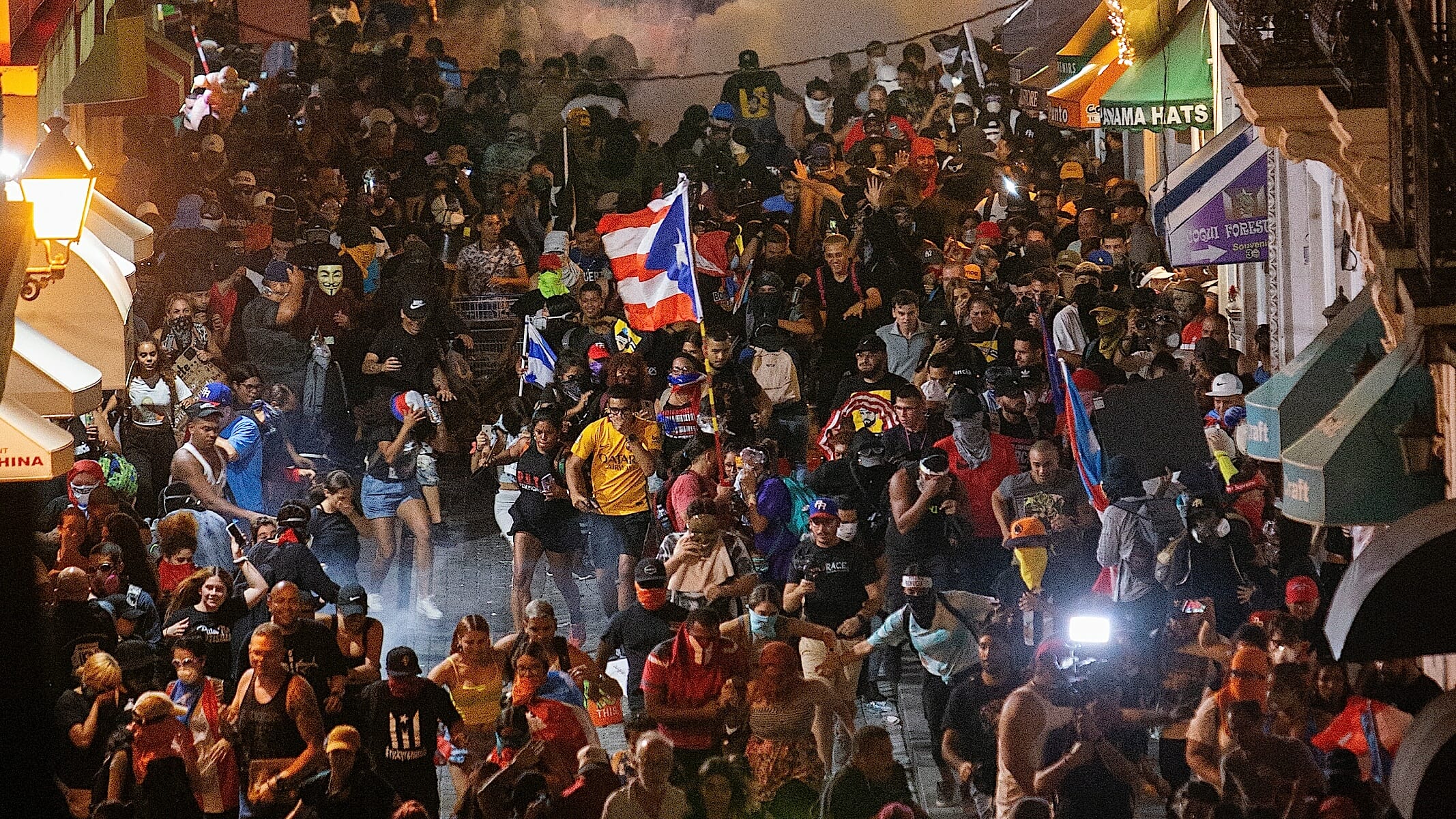 This was a long time coming—on Monday in San Juan, hundreds of thousands of citizens erupted in protest against the government, and had to be dispersed near midnight with tear gas and rubber bullets in front of the governor's mansion. That governor, Ricardo A. Rosselló, was the nominal target of the protests, but the general outrage, as the Times explains, was wide-ranging:
The protest was one of the largest ever seen on the island, as Puerto Ricans streamed into the capital on buses — and some on planes from the mainland — in a spontaneous eruption of fury over the years of recession, mismanagement, natural disaster and corruption that have fueled a recent exodus.
The protesters chanted for Rosselló's resignation, and though the governor had announced on Sunday that he would resign at the end of his term in 2020, that wasn't good enough. The largest paper on the island, El Nuevo Día, has called for his immediate resignation, and that sentiment seems to have overwhelming popular support.
Puerto Rico is a U.S. territory, and while the island votes in presidential primaries, the people don't have representation in Congress and don't vote in the presidential election. The island has seen a mass exodus of its people in recent years, many to the United States, but the irony is that U.S. mismanagement of disasters like 2017's Hurricane Maria have contributed to the state of entropy. None of which stopped President Trump from expressing his support for the protests, since he loves the idea of Rosselló as a scapegoat:
"You have totally grossly incompetent leadership at the top of Puerto Rico," the president told reporters at the White House. "The leadership is corrupt and incompetent."
Through austerity and unemployment and debt crisis and general hardship, the 3.2 million people of Puerto Rico persist, but as conditions have worsened, an outbreak of fury like this was inevitable. And while Rosselló's reign has indeed been incompetent and even cruel, it's also long past time the U.S. started treating this "territory" as a true part of the country, worthy of greater social welfare and the kind of hands-on rehabilitation we'd afford to any other state. And, in fact, statehood itself might be part of the answer.